Susann on why she chose Sheffield for her MA
It's almost​​​​​​​ impossible to step out of university and straight into your dream job but the key to success is knowing where you want to go, and I always knew I wanted to work in public service.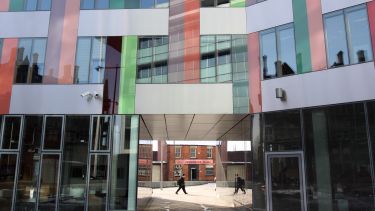 I loved my time at Sheffield University and got really inspired by the flexibility to make the MA in Intercultural Communication about the things that I am interested in - social cohesion, gender and multicultural communities.
After I graduated in 2010 I started work in a consultancy to get experience in the private sector and gain skills which would be relevant for where I wanted to go next: policy.
In 2012 I started working in a policy think-tank where I worked very closely with the European Commission on large research projects. My intercultural communication skills came in very handy when I managed teams of academics from all across Europe!
In 2014 I finally made the move into public service. I started working as a Policy Adviser in the Cabinet Office where I work closely with Ministers to advise them on issues regarding the charity sector.
---
A highlight of my career was also when I worked with No 10 Downing Street, the Prime Minister's Office, to put on Inclusion Week 2014.

Susann

MA Intercultural Communication
---
One of the most beneficial parts of my studies has been learning how to communicate with a different audience and how important it is to apply the right types of language to different people - a Minister's briefing will sound very different to a speech in front of the charity sector!
A highlight of my career was also when I worked with No 10 Downing Street, the Prime Minister's Office, to put on Inclusion Week 2014. I joined a small team tasked with putting on a week of events which would celebrate diversity and encourage inclusiveness across civil service.
I really felt like I could apply what I had learned in my studies to engage different interest groups and educate people on small, often subconscious habits which alienated others.
In the end, we ran a variety of events on issues such as mental health, disability, gender, ethnicity and faith. Voluntary diversity training increased by over 150% that week which Downing Street was incredibly pleased about.
I am also highly engaged in the Women's Network, a group which aims to engage, equip and enable women in the Cabinet Office to reach their full potential.
This can sometimes be a sensitive subject which is why my intercultural communication skills are useful to communicate the needs of one group without alienating another.
Studying for the MA in Intercultural Communication in Sheffield has been incredibly empowering because it helped me think about what is important to me both in my education and work life later on.
The support I received was incredible and I felt at all times that my critical thinking was appreciated and encouraged. I hope everyone will have the great experience I had but in the end, it is up to you to make this course your own!
Explore all postgraduate courses
A masters from Sheffield means in-depth knowledge, advanced skills and the confidence to achieve your ambitions.