Politics, Philosophy and Economics (PPE) BA
This course will help you understand the ideas and theories which shape our world. A truly interdisciplinary programme, this course will equip you with an understanding of the core principles of Politics, Philosophy and Economics (PPE). You'll learn how and why these subjects are intrinsically linked, and how they've developed alongside each other.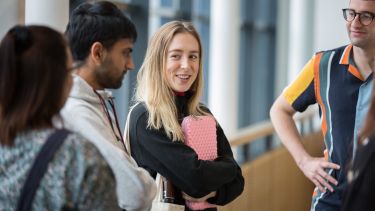 The course will launch in 2021, you will be able to apply for this course through UCAS from October 2020.
Course description
As a student on the Politics, Philosophy and Economics degree programme at the Sheffield Methods Institute you will develop analytical skills to help you evaluate the impact of government policies and programmes.
You'll learn how to understand things from multiple perspectives and think creatively about problem-solving. Our teaching is informed by real-world events that are happening now, so you'll be using the knowledge and techniques you've learned to tackle current issues.
As well as the flexibility to specialise in your area of interest you will also have the option to specialise in quantitative economics and convert to a BSc Politics, Philosophy and Economics. In the final year, you'll complete a Politics, Philosophy and Economics dissertation supported by a dissertation tutor.
You'll benefit from the expertise and experience of our academics in the departments of Politics, Philosophy and Economics. You'll also study specialist PPE modules with our expert academics in the Sheffield Methods Institute who will teach you the methods and techniques to analyse and interrogate policy, skills that will set you apart from other graduates.
Modules and teaching
As part of the Politics, Philosophy and Economics course you will study core and optional modules.  The core modules are:
Students can choose optional modules in Politics, Philosophy and Economics throughout their degree
Employment experience and studying abroad
We have a partnership with the Civil Service and we support students in gaining employment experience during their degree. We encourage you to spend a year working for governments, non-governmental organisations (NGOs) and other third sector employers focused on public policy.
You will also have the option to spend a year studying abroad in order to develop your skills and understanding of Politics, Philosophy and Economics in a global setting.
The content of our courses is reviewed annually to make sure it is up-to-date and relevant. Individual modules are occasionally updated or withdrawn. This is in response to discoveries through our world-leading research, funding changes, professional accreditation requirements, student or employer feedback, outcomes of reviews, and variations in staff or student numbers. In the event of any change we'll consult and inform students in good time and take reasonable steps to minimise disruption.
Information last updated: 29 January 2020
---
Clearing and Adjustment
We have places available on some courses for additional high achieving students through Clearing and Adjustment.