Placement success delivers important insight into attainment in BME students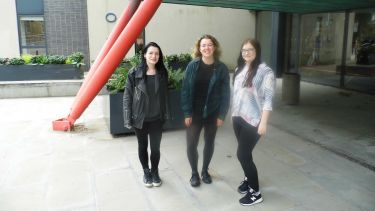 The report, titled 'Further Exploration of the Attainment Gaps at The University of Sheffield', was written by Rhiannon Denby and Oliva Smith during their placement with the Widening Participation Evaluation and Research Unit (WPERU), who have the remit to deliver institution-specific research projects about the impact of the university's widening participation strategies.
Rhiannon talks about her experience during her placement and the process of researching and writing the report:
"Before walking into the placement with WPREU, the ethnicity attainment gap in UK universities was an issue that I really knew nothing about. I had heard bits here and there about some people arguing that it existed, others arguing that it was simply a matter of socioeconomic and other traits in the students' backgrounds only making it look like an ethnicity-based issue; a matter of misinterpreted correlation.
---
In all honesty, it really wasn't a subject that I had really thought about all that much before - after learning more about it however, it became something which I am interested in researching in the future"

Rhiannon Denby

Placement student, WPREU
---
Some of the most commonly heard arguments against the presence of an ethnicity-based attainment gap are that black and minority ethnic (BAME) students simply come in with lower entry grades, or differing entry qualification types. It is argued that the lower attainment rates of a 2:1 / First when leaving university are simply a reflection of that, or that they largely come from lower socioeconomic backgrounds and are therefore being affected by their background of relative deprivation. These arguments do not deal with ethnicity as an isolated factor. Other variables used to explain away the gap includes age, gender and subjects studied.
Previous work on the project had already confirmed that when previous attainment qualification types (A-level, BTEC etc) are controlled for an ethnicity attainment gap remained with, as expected, white students always attaining higher grades. Much the same again in the case of entry grades, when controlled for the attainment rate of a 2:1 / First degree classification fell far below the attainment rate for white students.
As important as this previous work on the project was, there were still arguments from ethnicity attainment gap deniers left over which had not been addressed; as such, myself and another student working on the project chose to look at gender, mature status, Polar3 (a measure of higher education participation rates in the students' social background) and IMD ranks (a measure of socioeconomic deprivation), with myself investigating the latter two.
Sadly, though not surprisingly, none of these factors could sufficiently explain away the existence of an ethnicity-based attainment gap at The University of Sheffield. When these four factors were controlled separately, BME students still attained a 2:1 / First degree at lower rates than white students did. This spanned across all faculties in the university too; some faculties being worse than others, but all experiencing an ethnicity attainment gap.
Some of the findings of the project have also reinforced the notion that the way in which the ethnicity attainment gap is studied needs to be addressed within itself; namely, the fact that students of different BME subcategories attained a 2:1 / First at differing rates from each other and as such cannot be looked at as one homogeneous group. This finding is as of yet unexplained, although I do hope that it will be factored into more effective research designs, including the upcoming regression analysis work, for BME students' issues to be addressed faster and more effectively."
You can also read Olivia's experience of the placement and a presentation of key findings and the full report are in the WPREU January Bulletin.