Dr Griffith Rees
Sheffield Methods Institute
Visiting Research Fellow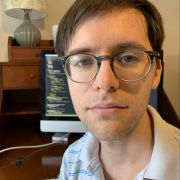 griffith.rees@sheffield.ac.uk
+44 114 222 8398
Interdisciplinary Centre of the Social Sciences (ICOSS)
Full contact details
Dr Griffith Rees
Sheffield Methods Institute
Interdisciplinary Centre of the Social Sciences (ICOSS)
219 Portobello
Sheffield
S1 4DP

Profile

Griffith previously worked as a postdoc at SMI. His research has primarily focused on the dynamics of social ties, be they between volunteers in a digital community, board members connecting institutions or creative neighbours on a digital canvas collaborating in visual design.

He was supervised by Prof Felix Reed-Tsochas for a DPhil in Sociology with the Complex Agent-Based Dynamic Networks (CABDyN) Group at Oxford University and his thesis modeled week level geographic growth and decline of an early digital social network spanning three decades.

Alongside he has contributed to open source software development, most notably the python web framework Django, and hopes to study the dynamics of creativity across different forms of art, expanding from a project on collaborative visual design to improvisation in jazz and theatre.
Research interests

Modelling social interaction, especially with a focus on creative behaviour, aesthetic responses and how the dynamics of collaboration in one medium may resemble or differ from another. Collaborating on creative projects that intertwine research and art.

Time series of social ties, largely using Event-History (Survival) analysis and Network Analysis. Test-driven development, primarily in Python but also R, Javascript and Processing alongside Postgresql, often incorporating geographic information and analysis with PostGIS.

Current research

Griffith's postdoc is focused on mapping the ties between high-level UK arts institutions, how they are changing over time and how much they reflect the Arts Councils' stated goals. This includes developing uk_boards: an open source Python library to query the Companies House and Charities Commission APIs.

He also aims to publish sections of his thesis by accounting for artefacts in the dynamics of week level changes in a social network. Once controlled for, this should produce a model of a social system that incorporates both leaving and joining events, expanding on work that has primarily focused on growth.