Dr Gwilym Owen
Sheffield Methods Institute
Visiting Research Fellow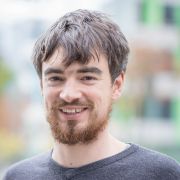 Gwilym.Owen@sheffield.ac.uk
+44 114 222 8398
Interdisciplinary Centre of the Social Sciences (ICOSS)
Full contact details
Dr Gwilym Owen
Sheffield Methods Institute
Interdisciplinary Centre of the Social Sciences (ICOSS)
219 Portobello
Sheffield
S1 4DP

Profile

Gwilym is a visiting research fellow at the SMI, interested in inequality, segregation, social justice and health.

Having completed his PhD at the University of Bristol in 2017 Gwilym taught a series of classes about inequality and segregation.  Gwylim's PhD thesis focused on focusing on how social and genetic factors interact to influence health inequalities.

Undertaking a placement with the Welsh Government and working alongside the National Survey for Wales Gwilym's research is focused on contributing to studies on equality, fairness and social justice.
Research interests

Gwilym's research interests are in using quantitative data to better understand the social world and to shape a fairer, happier society. His past research has been around health inequalities and in particular how the places in which we live deferentially shape our health and other life outcomes. He has methodological interests in the development of multilevel models to fit complex data structures.

Current research

Gwilym is working at the SMI with Gwilym Pryce on two ESRC funded projects. The first involves working with collaborators in Hebei province in China to measure deprivation and segregation in the provincial capital.

The second project, called Understanding Inequalities, aims to explore the causes and consequences of inequalities in Scottish society and beyond. Gwilym's role on this project will be to use quantitative data to analyse ethnic inequalities in Scotland, as well as exploring the role of neighbourhoods in shaping these inequalities.