Dr Lucy Jackson
Sheffield Methods Institute
Lecturer in Qualitative Methods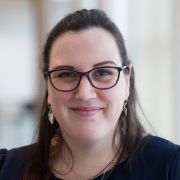 lucy.jackson@sheffield.ac.uk
+44 114 222 8380
Interdisciplinary Centre of the Social Sciences (ICOSS)
Full contact details
Dr Lucy Jackson
Sheffield Methods Institute
Interdisciplinary Centre of the Social Sciences (ICOSS)
219 Portobello
Sheffield
S1 4DP

Profile

Lucy joined the Sheffield Methods Institute as a lecturer in qualitative methods in October 2017. She received her PhD in human geography in 2012 after defending her thesis 'Alternative sites of citizenship: emotions, performance and belonging for female migrants' in the Institute of Geography and Earth Sciences at University of Wales, Aberystwyth.

In October 2012 Lucy joined the University of Sheffield as a Postdoctoral Research Associate working on the ERC funded projected LIVEDIFFERENCE. Within this project Lucy worked on 'spaces of conflict' where she conducted research on conflicting and competing rights in the city associated with reproductive rights conflict and conflict between faith and secular groups.
Research interests

Lucy's research background is in critical social geographies though her research is applicable broadly across the social sciences including health, criminology, politics, sociology and anthropology. Lucy's research aims to re-address questions of 'the social', not just in terms of social justice, but in terms of socio-spatial politics and the performative politics of everyday life within different societies. Lucy works with theories around everyday practice such as De-certeau and Lebevre.

Lucy's research interests are in the field of feminist geopolitics and the critical geography of difference (as lived, experienced, visualised, and emotionalised through practice, performance and engagement), inclusion and exclusion, the body and the self, and identity (as negotiated, relational, complex and multiple). She is committed to research in the justice, rights and lived experience of othered groups through activist and community development projects and organisations.

Lucy's research interests also focus upon a politics of everyday practice, an understanding of everyday publics, policies and attitudes and how this leads to the formation of different communities as well as in developing new and engaging qualitative methodological approaches. Lucy's research interest also lies in the practice and performance of everyday, banal, politics and political acts. She is predominantly recognised for her engagement with feminist countertopographical research and with innovative qualitative methods which connects emotions, experience and practice in and through scales to focus on a politics of the everyday.

For example, Lucy's previous research has focused upon conflicting and competing rights in the city, studying the example of faith and secular groups, as well as pro-life and pro-choice protesters in the UK, working with migrant communities in the UK and South Asia to understand their everyday practices of, and commitment to, citizenship as both formal and informal category, and more recently work in East Africa around the potential for critical citizen engagement.
Publications
Professional activities

• Social and Cultural Geographies Research Group (SCGRG) RGS-IBG committee member (Aug 2013-)
• Gender and Feminist Geography Research Group (GFGRG) RGS-IBG. Dissertation prize coordinator (January 2017- ), ordinary member (Aug 2011-)

Professional history

2017 - present: Lecturer in qualitative methods, SMI, University of Sheffield.

2015-2017: Lecturer in Human Geography, University of Liverpool

2012-2015: Postdoctoral Research Associate, Department of Geography, University of Sheffield

2010-2012: Teaching Associate in Human Geography, Institute of Geography & Earth Sciences, University of Wales, Aberystwyth

2007-2012: PhD, Institute of Geography & Earth Sciences, University of Wales, Aberystwyth.
Current research

Currently, Lucy's research is framed around the following core themes:-

 Feminist geopolitics, gender and everyday practice

 Reproductive politics: Rights, access and agency regarding reproductive rights.

 Citizenship, rights and justice

 The state, sovereignty and territoriality in everyday lives

 Emotional geographies of belonging and the everyday

 Methodological innovations

Lucy is interested in supervising doctoral research associated with the key themes listed above.

Currently, Lucy is working on two projects:

1. Historical and political narratives of reproductive rights

This project involves an investigation into the decision- making capacities of individuals in controlling their own reproductive freedoms. This research looks at the complex negotiations of how the state, and state legislation, impacts upon the everyday lived experiences of individual bodies. At present, Lucy is writing up research conducted with Dr Kasia Narkowicz (University of York) looking at questions of agency regarding reproductive healthcare rights in the UK and Poland.

This research is currently funded by an RGS-IBG grant, titled "Bodies that travel and the mobile state: State sovereignty and control of fleshy politics" which investigates narrative perspectives on abortion access in Northern Ireland and to understand the legacies of 'women who travel' to access reproductive services in England and Wales. 

2. Citizenship, civility and democratic rights

This project involves research in East Africa and South East Asia asking questions about how citizenship and civil rights are performed in 'uncivil' conditions. This looks at the role that Non-Governmental Organisations play in the deliverance of civil rights and how they contribute to the creation of public (political) participation in different ways (research funded by the Sheffield Institute for International Development, SIID). This research has recently been published in the journal Political Geography.