Dr Meng Le Zhang
Sheffield Methods Institute
Research Associate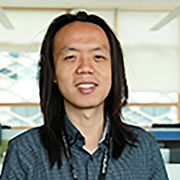 meng_le.zhang@sheffield.ac.uk
+44 114 222 8398
Interdisciplinary Centre of the Social Sciences (ICOSS)
Full contact details
Dr Meng Le Zhang
Sheffield Methods Institute
Interdisciplinary Centre of the Social Sciences (ICOSS)
219 Portobello
Sheffield
S1 4DP

Profile

Meng Le Zhang is a research associate at the Sheffield Methods Institute. He is a quantitative social researcher with a background in education research. He is currently working on the ESRC funded Understanding Inequalities project

Meng Le completed his PhD studies in 2016 at Cardiff University, the title of his thesis was 'Graduate Destinations and Labour Market Stratification Across Different Fields of Study'.  Meng Le's background is education, social sciences and philosophy.
Research interests

Meng Le's research focusses on inequalities in educational and labour market outcomes. In particular, he is interested in the estimation of causal effects using observational data from surveys, longitudinal datasets and natural experiments.

Current research

As part of the Understanding Inequalities project, Meng Le's current research explores the effects of changing neighbourhood dynamics on life outcomes for people in Scotland. This involves using large-scale Scottish census data, linked to other administrative records, to estimate the so-called neighbour effects of living in poorer areas on children's later life outcomes.

His recent work, looking at the performance of Scottish social policy on issues of social and economic inequality, can be found here.