Professor Swati Jha
MD,FROG
Clinical Medicine, School of Medicine and Population Health
Honorary Professor
Consultant Obstetrician and Gynaecologist
Subspecialist in Urogynaecology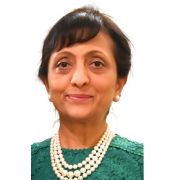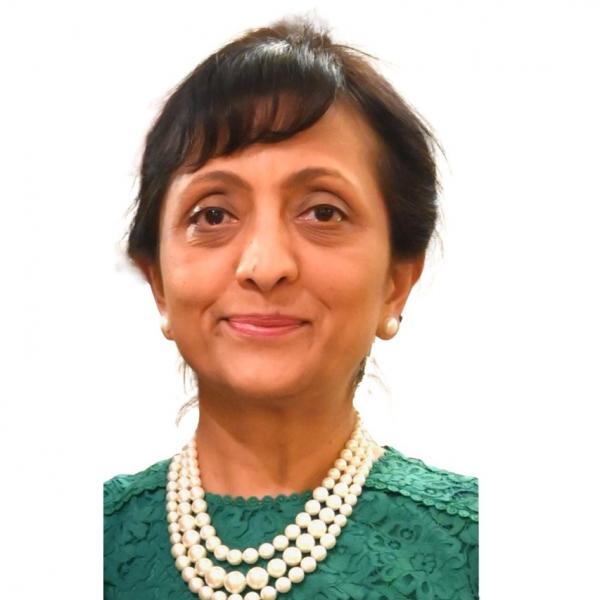 s.jha@sheffield.ac.uk
+44 114 226 8319
Level 4, Jessop Wing
Full contact details
Professor Swati Jha
Clinical Medicine, School of Medicine and Population Health
Level 4
Jessop Wing
Tree Root Walk
Sheffield
S10 2SF

Profile

Swati is a Consultant Obstetrician and Gynaecologist and the first Subspecialist in Urogynaecology in Yorkshire. She completed her medical education in India and migrated to the UK in 2000 when she started working on the NHS. She is the Training Programme Supervisor for Urogynaecology and leads several specialised services including the Sheffield National Mesh Complication Centre (one of 9 centres in England), the Paediatric and Adolescent Gynaecology Service (one of 11 centres in England) and the Sheffield Perineal Trauma Service. She set up and established the laparoscopic urogynaecology service in Sheffield.

During her training she spent 2 years doing subspecialty training in urogynaecology and was awarded her MD in 2017 and Honorary Chair in 2022 by the University of Sheffield.

Swati has an international research and leadership profile in Urogynaecology and was the youngest Chair of the British Society of Urogynaecology (BSUG)[Chair Elect 2017-2019; Chair 2019-2021]. She is a Member of the Urogynaecology and Pelvic Floor Committee of the  International Federation of Obstetrics and Gynaecology (FIGO), and is a member of the Research and Development Committee of the International Urogynaecology Association (IUGA). She has served as a Specialist advisor to the NICE IPG programme since 2019 and is BSUG spokesperson to the RCOG since October 2017. She has delivered in excess of 100 keynote/plenary lectures at national and international conferences, including IUGA, EUGA, BAUS, BIARGS, UKCS, and RCOG organised courses. She has published over a 150 Medline indexed papers, is on the Editorial board of 2 International Journals (The Obstetrician and Gynaecologist, RCOG; Best Practice and Research: Clinical Obstetrics and Gynaecology) has written 2 books and is currently working on her 3rd book which is due publication next year
Qualifications

CUBS Cardiff University 2019. Bond Solon Expert Witness Certificate
MD 2017. University of Sheffield
FRCOG 2013.
Subspecialty Training Urogynaecology 2008.
PGCME 2004. PG Cert in Medical Edu.Wolverhampton      
MRCOG 2000.
MD (O and G) 1999. Darbhanga Medical College. India
MBBS 1995.Patna Medical College. India

---

Academic distinctions

Gold Medal in Ophthalmology
Distinctions in General Surgery, Otorhinolaryngology, Forensic Medicine and Toxicology, Anatomy, Physiology, Biochemistry.

---

Awards

Silver Clinical Excellence award: National Award for contribution to service development, research, teaching and training. 2021
First Prize: Supervised Research fellow presentation at Annual Scientific Meeting, BSUG. London. 2020 BMA Book Awards: Highly commended award for "Medicolegal Issues in Obstetrics and Gynaecology"2019 EOGS National Women's Health Conference: Supervised Medical Student award. 2018
Bronze Clinical Excellence award: National Award for contribution to service development, research, teaching and training. 2017
Tim Chard Award: Supervised Medical student award for Case history to RCOG. 2017
KV Bailey award: Supervised project on Women's Attitudes attending Perineal Trauma Clinic. 2016
Calcutta Eden Award RCOG: Supervised BMedSci student. 2015
Ernest Finch: STH Travelling Fellowship. 2013
First Prize: Harold Malkin Award. RCOG. 2007
First Prize: Annual Research meeting of the BSUG. RCOG.2007
First Prize: North Trent Regional SpR Presentation. RHH, Sheffield. 2007 Gold Medal - (BMOGS) Spring Meeting, Kettering General Hospital, 2006
Gold Medal - (BMOGS) 2002, 2004 and 2005
West Midlands PG Cert award for Registrars: PG certificate in Medical Education, 2004
First Prize - North Trent SHO Presentation for O & G. Doncaster Royal Infirmary, Doncaster. 2001
First Prize - Annual Function of the Surgical Society, PMCH, Bihar, India 1994
First Prize - Symposium on Cardiac Failure, PMCH, Bihar, India 1994
First Prize - Inter-College English Debate, PMCH, Bihar, India 1992
Research interests

My main areas of research are related to pelvic floor dysfunction and in particular sexual function, female urinary incontinence and pelvic organ prolapse.

Sexual Function in Urogynaecology

My MD Thesis investigated Sexual Function in Women with Urinary Incontinence. This thesis aimed to analyse the association between urinary incontinence and sexual function in women. The impact of different treatment modalities for urinary incontinence and their effect on sexual function was measured. This was through a series of separate experiments. The prevalence of sexual dysfunction is greater in women with pelvic floor disorders and the various interventions for urinary incontinence have a variable impact and this was presented in my thesis (http://etheses.whiterose.ac.uk/18525/1/MD%20with%20Appendix.pdf).

Because of my expertise in sexual medicine, I was invited by IUGA to lead one of the 5 UK sites that validated an international instrument for use in assessing sexual function in women with pelvic floor dysfunction (A new measure of sexual function in women with pelvic floor disorders (PFD): the Pelvic Organ Prolapse/Incontinence Sexual Questionnaire, IUGA-Revised (PISQ-IR). Int Urogynecol J. 2013;24:1091-1103)

As Chief Investigator for an RfPB funded trial, I completed an RCT looking at ways to improve pelvic floor muscle tone through physiotherapy with and without electrical stimulation. This study (IPSU) demonstrated no difference in electrical stimulation and standard physiotherapy for women with urinary incontinence and sexual dysfunction. This was in collaboration with the University of Sheffield (ScHARR) (Impact of pelvic floor muscle training on sexual function of women with UI and a comparison of electrical stimulation versus standard treatment (IPSU trial): a randomised controlled trial. Physiotherapy. 2018;104:91-97)

Following on from this and in collaboration with the Auckland Engineering institute, I undertook a study using a hand-held vaginal elastometer to measure pelvic floor muscle stiffness in attendees of a postnatal perineal trauma clinic. I investigated the association of pelvic floor muscle stiffness values to demographics, labour characteristics, mode of vaginal delivery, clinical features and evidence of Levator Ani damage on MRI. This received Grant funding from INSIGNEO, University of Sheffield (Postnatal pelvic floor muscle stiffness measured by vaginal elastometry in women with obstetric anal sphincter injury: a pilot study. Int Urogynecol J. 2019 Dec 4).

Also, in collaboration with the Auckland Institute, I am currently investigating the changes in pelvic floor muscle pressure profile before and after pelvic organ prolapse surgery using the Intravaginal pressure sensor device (IVPSD). This has received Grant funding from UKCS.

I have ethics approval to analyse the Pelvic floor muscle tone in pregnancy using the IVPSD device. This is scheduled to start in August, 2021 and will be a BMedSci project with the University of Sheffield.

National Prolapse Surveys

I have undertaken the 3 National UK Prolapse surveys. The first was in 2007 (National survey on the management of prolapse in the UK. Neurourol Urodyn.2007;26:325-331), followed 5 (The UK national prolapse survey: 5 years on. Int Urogyneco J. 2011;22:517-528) and 10 years later (The UK National Prolapse Survey: 10 years on. Int Urogynecol J. 2018;29:795-801) The prolapse surveys analyse how trends in the surgical management of pelvic organ prolapse (POP) amongst UK practitioners has changed in practice by comparing to the previous trends in practice. This work performed consecutively over the past 10 years has also allowed a major understanding into the use of mesh for both vaginal and abdominal surgery for POP and the application of laparoscopic procedures for managing prolapse. This is the most robust epidemiological data till date on the use of mesh for vaginal prolapse. These papers have a joint citation index of over 150.

This survey has subsequently been used and repeated in other countries including Australia.

Patient decision Aids (PDA) facilitate shared decision-making allowing patients to make decisions about their healthcare that takes into account their personal values and preferences. I established their clinical utility in a study I led (Utility of patient decision aids (PDA) in stress urinary incontinence surgery. Int Urogynecol J.2019. 30 (9). 1483-1486) and went on to co-author the NICE PDA for stress urinary incontinence surgery on behalf of BSUG. I have investigated how these function in clinical practice and patient satisfaction to their use and am in the process of testing the NICE PDA using the research tool version of the Decision Conflict scale. This will be submitted as an RfPB proposal in June 2021.
Publications
Research group

Jessop Wing Research Executive.
IUGA: Research and Development Committee member.
BSUG Research Network.
Grants

| | | |
| --- | --- | --- |
| 2022 - 2025 | NIHR | APPRAISE Study |
| 2021 - 2022 | BSUG Research Grant | IVPSD in pregnancy |
| 2019 - 2021 | MRC: Confidence in Concept | Sheffield Drain |
| 2020 - 2024 | HTA: NIHR | PURSUIT |
| 2019 - 2020 | UKCS | IVPSD in POP |
| 2014 - 2015 | INSIGNEO: Sheffield University | Elastometer Study |
| 2012 - 2013 | STH: Small Grants Scheme | Impact of POP surgery on Sexual Function: SR |
| 2012 - 2015 | RfPB; NIHR | IPSU |
| 2009 - 2010 | STH: Small Grants Scheme | Impact of Incontinence Surgery on Sexual Function:SR |
| 2009 - 2010 | UKCS | Impact of Virtual Clinics |
| 2009 - 2010 | Pfizer Grant | Impact of anticholinergics On Sexual Function |
Teaching activities

Supervising a PhD at Leeds Beckett University and BSc,MSc and BMedSci students.
I was invited to write an editorial for the International Urogynaecology Journal on Urogynaecology Training in the UK. This was published in the IUJ. (Urogynaecology training in the UK: past, present and future. Int Urogynecol J Pelvic Floor Dysfunct 2009 Apr;20(4):377-80).
I conducted a survey of all trainees and trainers of Urogynaecology training in the UK to establish satisfaction rates amongst trainees about the quality of their training. This was to assess the new national curriculum introduced in 2011. The aim was to see how the urogynaecology curriculum was being delivered in addition to exploring the views of trainees and trainers of the training. This was presented nationally and internationally in 2013 and led to a publication in the IUJ. This also resulted in the recognition that sacrospinous fixation should be part of the curriculum of ATSM (Advanced Training Skills Module) run by the RCOG and has resulted in a change in the curriculum which is now GMC approved. (Evaluation of Advanced training skills module [ATSM] in urogynaecology. International Urogynaecology Journal (2014) 25: 546-547).
I have conceived developed and have written the curriculum for the Native Tissue Mentorship Scheme in 2018. This is a national training programme run by the British Society of Urogynaecology and approved by the Specialty Education Advisory Committee (SEAC) of the RCOG which provides Consultants in established practice a framework to acquire the skills to perform continence procedure using native tissue.
I am a Faculty member for the Experience Medicine, Sheffield for 6th Formers wishing to join medicine since 2013. I made a video for introducing them to the theater environment and this is used to demonstrate how a laparoscopic operation is done.
Provided the educational content and resources for independent peer review for First Consult a Cleveland Clinic Module for Continuing Medical Education on the subject of Sexual Dysfunction in Women. 2012.
I am an examiner for UoS Phase 3B OSCE exams. I have been serving as an examiner for 11 years. I write the phase 3B exam questions related to Incontinence and Prolapse for the UoS.
I am an examiner for the Royal College of Obstetrics and Gynaecologists for the MRCOG part 3 exams.
I am Deputy Programme Director and lead laparoscopic trainer for the Urogynaecology Subspecialty trainee here at Sheffield. There are 14 posts in the country, with Sheffield hosting one of these sites.
As College Tutor for 4 years (2015-2019), I oversaw the provision of the Training and Education Programme relevant to different grades of trainees and assist the Deanery/School/LETB in managing the appropriate components of the Obstetrics and Gynaecology training programme.
I am one of the 3 Educational Supervisors for the Research APM run by the RCOG in South Yorkshire and Humber. This is a training module which allows Obstetrics and Gynaecology trainees to develop  a sound understanding of research methodology.
I have been external examiner for MD vivas.
Professional activities and memberships

2022 - 2025
RCOG
Chair: Research Priority Domain
2019 - 2021
BSUG Chair

As immediate past Chair and previous Vice Chair, I have been involved in all decisions involving the British Society of Urogynaecology, which is one of the affiliate Societies of the RCOG with over 550 members. In this role I have the following responsibilities:

-Representing the Society to Government departments, Parliament, NHSE, NICE, HQIP, MHRA.
-Working closely with RCOG.
-Managing the BSUG secretariat.
-Dealing with external enquiries from Patient Groups.
-Representing BSUG on ad hoc external Committees.
-Representing BSUG on the specialist Societies Committee.
-Overseeing the work of the various subcommittees.
-Liaising with IUGA and EUGA of which BSUG is an Affiliate member.
-Represent the organisation at the Pelvic Floor Health Oversight group and Mesh Registry group established by NHSE.
-Represent the organisation on the Clinical Reference Group for Gynaecology Specialist Commissioning.

2017 - 2019
BSUG Vice Chair
See above.
2019 - Current

Specialist Adviser to NICE's Interventional Procedures Programme

Provide advice on the following aspects of individual procedures within my area of expertise or knowledge:

-the relevance to the Programme's remit of procedures notified to the Programme.
-preparation of the procedure's scope and Overview.
-the development of an audit tool for the procedure where appropriate.
-the development of a lay version of the guidance

2017 - Current
RCOG Spokesperson for BSUG

Provide comments to all media press releases that involve the BSUG.

2018 - Current
RCOG Examination Committee
Examiner for MRCOG part 3 OSCE exam.
2015 - 2017
BSUG
Chair of the Training Committee.
2014 - 2017
RCOG Subspecialty Committee
BSUG Urogynaecology Representative.
2013 - 2016
NHS England
Yorkshire Representative on the Complex Gynaecology Services Clinical Reference Group.

---

Current projects

IUGA Opinion Paper on Mixed Urinary Incontinence
Intravaginal Pressure recording in Pregnancy and the impact of delivery on the pelvic floor.
Utility of Patient Decision Aids in routine Urogynaecology Practice and for specialised Mesh services.

---

Membership of learned societies

Fellow of Royal College of Obstetrics and Gynaecology (RCOG).
International Urogynaecology Association (IUGA).
British Society of Urogynaecology (BSUG).
British Society of Paediatric and Adolescent Gynaecology (BritSPAG).
British Menopause Society (BMS).
United Kingdom Continence Society (UKCS).
 International Continence Society (ICS) British Medical Association (BMA).
Medical Defence Union (MDU).
Federation of Obstetrics and Gynaecology Society of India (FOGSI).
Media work

I am media spokesperson for the Royal College of Obstetricians and Gynaecologists. The RCOG consults and seeks advice from me on a wide range of topics and issues within women's health, particularly urogynaecology and general gynaecology. I have contributed to over 15 press/media statements for the RCOG and play a pivotal role in ensuring the media has accurate and balanced information on women's health.

As Chair of the BSUG and spokesperson for the RCOG, I have received Media training at the Millbank Media Training Centre, London. I provide an opinion on all key matters related to urogynaecology published in the media. Over the past 2 years I have developed a significant reputation as an opinion leader in the field of Urogynaecology. My major contributions to the Media are summarized below:

Featured in the Sheffield Surgical Society National Women's week in 2019:
https://www.rcssheffield.co.uk/2019/03/04/women-in-surgery-week/

Featured in the Sheffield Star for introducing Innovative surgery to Sheffield in 2014:
https://www.thestar.co.uk/news/latest/surgery-first-at-women-s-hospital-1-6803914

Invited to do a Radio 4 interview for Inside Health to provide an opinion on the use of vaginal mesh for prolapse in 2017:
http://www.swatijha.com/wp-content/News/InsideHealth-20171010-VaginalMeshAlcoholAndTheHeart.mp3

Featured in the Sheffield Teaching Hospitals News when I was elected to be Vice Chair/Chair Elect of BSUG as the first gynaecologist from Yorkshire and Humber to be elected to this post and the second woman to take up this role 2018 https://www.sth.nhs.uk/news/news?action=view&newsID=1037

Invited to do an interview for LEMON magazine on "Why you can't pop your cherry" which is a magazine run by Graduates 2017 (https://lemonmaguk.com/why-you-cant-pop-your-cherry/).

Letter To The Secretary of State For Housing Communities and Local Government Campaigning For Opening of Public Toilets During The Covid 19 Pandemic:
https://bsug.org.uk/news-details/bsug-writes-to-parliament-regarding-ongoing-closure-of-toilets-during- covid-19-crisis/91/0/0 (Accessed on the 20.06.2020)

Oral Hearing In Parliament For Public Enquiry Into The Pause On Mesh For Incontinence And Prolapse (Immd Safety Review)
In February 2018, Jeremy Hunt the then Minister of state for health and Welfare called for a review into the use of vaginal mesh and a review body was set up led by Baroness Cumberlege. Following the implementation of the vaginal mesh pause I have been to several meetings in Parliament to brief MPs on the developments and problems with the use of mesh and have provided Oral Briefings to the Safety Review Committee.
https://www.youtube.com/watch?v=BkdsuhX8ixY&fature=youtu.be (Accessed on the 01.05.21)