Karen Ball
BSc, MBA, CIMA
Faculty of Social Sciences
Faculty Director of Operations for Social Science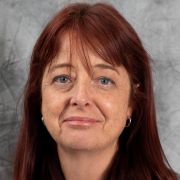 Interdisciplinary Centre of the Social Sciences (ICOSS)
Full contact details
Karen Ball
Faculty of Social Sciences
Interdisciplinary Centre of the Social Sciences (ICOSS)
219 Portobello
Sheffield
S1 4DP

Profile

Karen started this role in March 2018, bringing with her a wealth of experience from the public, private and third sectors. Latterly she was Director of Operations for the College of Social Sciences at the University of Exeter.

Her role is to support the Faculty Vice-President in the strategic leadership and operational management of the Faculty of Social Sciences, the largest at the University with over 1,000 staff and over 10,000 students. She is tasked with ensuring its ongoing success through effective innovation and business coordination and working in partnership with colleagues across the institution.
Qualifications

Karen has a first degree in Politics from Hull, and an MBA from the Open University. She is a part-qualified accountant with a CIMA Advanced Diploma in Management Accountancy. She is also a Fellow of the Leadership Foundation for Higher Education.