Covid-19 caregivers in Canada
by Kathryn Underwood and Gillian Parekh from Toronto, Canada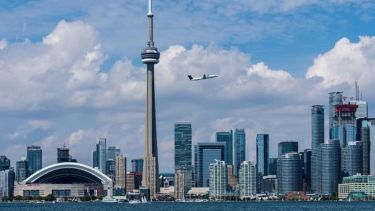 Off
Around the world, we are being asked to isolate ourselves physically from our family, peers and workplaces. This is an imperative to stop the COVID-19 virus from spreading, with directives taking on a moral tone rightly connecting isolation behaviour to saving the 'vulnerable', and with the counter argument that we need to ignore the vulnerable and save our economies. But which services, relationships, and human lives are essential and worth the risk, and which ones are not?
Over the last nine weeks we have been overwhelmed with advice; advice on how to be productive, or to be great parents, or to participate in physical distancing activities such as zoom meetings and virtual seminars. With pressure to participate in the response, and also to not take up too much space, we are overwhelmed with feeling like we can't get anything done, and the need to do something. We have a sense of needing to capitalise on the enormity of social change that is taking place, but finding the entry point into the information, social initiatives and directives that are everywhere is a challenge and so we share our own small worlds as our entry point. 
We are mothers, daughters, sisters, nieces, as well as educators and members of our communities. While currently we do not identify as disabled, we both have first hand knowledge of persistent ableism through our relationships and families. Over the last year, between us, our families have taken up care roles for multiple family members over 70 who have had cancer related surgery and chemotherapy. We have experienced the death of family members over 70 as a result of cancer. 
We also have been part of care teams for a parent who had surgery and complications related to disability in which ableist assumptions about personal care and the value of rehabilitation from the medical condition conflicted with the value of a disabled life post-surgery. We've also been with a disabled parent, who spent weeks in the Intensive Care Unit, where ableist deliberations on whether or not to offer life-saving interventions were discussed with and around us; as well as a disabled brother who is currently in lockdown in a long-term care facility as residents and staff steel themselves against the horrors that are unfolding in care facilities around the world. And parents who are asked to stay home if they are over 70 with no recognition of the ageism embedded in the discourse.  
As caregivers we have been cooks, cleaners, personal support workers, social companions, decision-makers and mourners. But these roles are in relation to the people who also care for us, support us emotionally, love our children, and encourage our work. We have worked hard to be available to be caregivers for those in acute need, while we supported family members to navigate access to paid personal care workers, emergency departments, and health services. But we have also been the recipients of care from those same people. And now, because of the pandemic, our identities with relation to caregiving have shifted to our children as we have been isolated into our much smaller definition of family in daily life, and are working to keep our children healthy, engaged, and successful at school.
We have been talking with each other about this because care work has come to the forefront during this pandemic. We have organised ourselves into societies that have lost our own connection to care work. The kind of care that we have experienced is not considered essential – in fact it can lead to fines in Canada at this time. Care work that is paid is now considered essential but we are not paying most of these workers in a way that values their work, and more broadly we are not recognising the very complex dance we are participating in that involves our basic humanity in our relationships, which is entangled in social power, workers' rights and pay, disability and ageing. 
We have caregiving responsibilities that are direct during this social isolation, i.e. we have children at home. But we also have extended family who 9 weeks ago we were able to visit and connect with regularly because they are getting cancer treatment, or they lost their partner this year, or they experienced hospitalisation or surgery. And then, in one day, we didn't do this anymore…we couldn't. We still talk to these people on the phone, but our relationship as 'caregiver' is gone and that also impacts us. 
And through all of this (which isn't much in the greater scheme of things), we are also researchers: We have a duty of care that includes the people who are impacted by the work that we do. Over the last 10 years, our research has looked at the institutional interactions that families of young disabled children have, and the ways that families are governed through these interactions, including in childcare, schooling, early intervention and family support. Our research, along with colleagues, has been able to show that families are asked to engage in specific kinds of work in order to organise for the system of care and education that our society has in place. In part, families have been told that this work is essential which is one of the motivations for them to engage in this kind of work.
The lives of disabled children and their families are made so complicated by service interactions that it is almost impossible to describe how families, and the individuals within families are and will be impacted by the disruption of public, private and familial care relationships in the future.
Existing inequality in access to employment, health care, housing, and social services are being exacerbated by the shutdown of many public offices and organisations. For people at home who have personal care needs, we, in Canada, have never had consensus on what services are essential even in regular times. Developmental, therapeutic and intervention services, especially those delivered outside hospital settings have never been agreed upon in legislation, and have different entitlements across different jurisdictions. Further, many of these services are part of social services or education provisions, which may have been shut down at this time, and often are enhanced with private services when families can afford them. As governments across the country make decisions about new ways to deliver education, child care, and other social services, it is not clear how individual children and families will be supported. We do not yet know, what the needs of all children and families will be. Our hope is that the care relationships that make us human will be remembered and valued, in addition to containing the virus and re-starting the economy.
Flagship institutes
The University's four flagship institutes bring together our key strengths to tackle global issues, turning interdisciplinary and translational research into real-world solutions.