MA Digital Media and Society modules
The MA Digital Media and Society, delivered by a team of academics with expertise in digital media and digital society, is conducted through a combination of lectures, tutorials, seminars, workshops, small-group work and problem solving.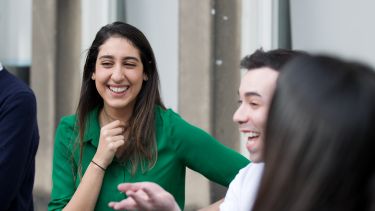 The course is based around three main aspects:
The first is a series of core modules that are worth one third of your marks on the Masters degree;
This is then built upon through optional modules, also worth one third of your marks on the course;
The course culminates in the dissertation module, which is worth the final third of your marks. This provides the opportunity, under one-to-one supervision, to focus in depth on a topic of individual choice.
Each module is assigned a credit value: 180 credits are required for graduation. 90 of these are core modules, 30 are optional and finally 60 credits are allocated to the dissertation.
Students who take this programme part-time will have a period of two years to complete. The part-time route is structured in the following way: students will take 90 credits in the first year and the remaining 90 credits in the second year. The dissertation, which is worth 60 credits, must be taken in the second year.
Core modules (90 credits total)

Academic Skills and Literacy (zero credits)

Perspectives on Digital Society (15 credits)

This module examines key issues in researching digital society and the relationship between digital media and society. The module introduces key concepts that have shaped understanding of digital developments and evaluates debates about how these developments a) have been shaped by the societies in which they have emerged and b) shape those societies. It will develop your understanding of the social, cultural, political, economic and technical contexts in which digital developments emerge. Topics covered include, but are not limited to: key concepts; users, producers or produsers; identity, representation and self-representation; internet governance and regulation; privacy and publicness; visual digital society; big data and datafication; mobility; gaming and gamification; changing work practices; alternative digital media; health, well-being, education and work.

Digital Practices (15 credits)

This module provides you with practical skills in digital media production, covering the following areas: creative media content; visual design; web design (including areas such as usability and user experience design, web accessibility, search engine optimisation). It will also introduce you to software and processes relating to these areas in a workshop environment, and students proceed to develop their skills through the production of portfolio work. It focuses on digital media in society by highlighting the importance of users, usage and use contexts of digital media products.

Digital Identities (15 credits)

This module explores how gender, age, race, class and other identities are being reimagined in what various commentators have called a `social media age'. It provides students with an in-depth understanding of social media platforms, roles in people's identity negotiations, examining users' social media identities in different global contexts, and paying close attention to the intersections between different identities. It reviews debates about identity formations from the earliest digital media moments and considers contemporary concerns, such as: anonymity and agency; selfies and sexting; censorship, resistance and collective identities; social media fandoms; masculinity and gaming.

Researching Society (15 credits)

This module introduces you to key theories, principles and practices in social research. It provides an overview of the research process in the social sciences, with direct consideration of research design, different methodological approaches, a range of methods available and good ethical standards. It provides you with theoretical understandings and the practical skills required to design and develop a small-to-medium scale research project.

Digital Methods (15 credits)

This module introduces you to new and emerging methods for carrying out digital research that is, digital methods. Digital methods are natively digital techniques for researching the natively digital (for example, social media content, likes and shares; blog posts and comments; hyperlinks; tag clouds; folksonomies; search engines; recommender culture). Digital methods include social media insights and analytics, social network analysis, issue network analysis, data visualisation, and data sprints, amongst others. As well as learning how to use these tools, techniques and processes,you will evaluate them, the context of their emergence (and sometimes rapid decline). You will develop an understanding of how digital methods are used to create knowledge. In this way, the module addresses questions of web epistemology, information politics, ethics, device critique, and the social life of methods.

Social Media, Data and Society (15 credits)

This module examines the social consequences of widespread use of social media, a key characteristic of digital society. It explores what happens as a result of the digitised and networked sharing of personal information and life experiences of all kinds, in times of datafication (that is, the transformation into data, numbers and statistics aspects of social life which formerly did not exist in such forms). The module reviews theoretical literature on social media, data and society and addresses specific debates and issues, including: social media data mining; social media surveillance; the economic value of social media data; data tracking, privacy, rights and data subjects; governing social media data mining; data activism and open data; data visualisation; new forms of data work; data and everyday life.

Optional modules (30 credits total)

Students take 30 credits from this group.

Global Challenges in the Digital Society (15 credits)

Global challenges in the digital society explores in depth a series of contemporary issues that affect the relationship between digital media and society in the global context. Topics include, among others, digital labour and international digital labour platforms and markets; disinformation, misinformation and the challenges to traditional forms of expertise; mainstream social media platforms and cross-cultural contamination; decentralised digital networks and transnational collective action; digital media and transnational governance; AI and machine learning; urban automation and smart cities; blockchain and the politics of diffusion.

Sociology of Genders, Sexualities and the Bodies (15 credits)

Why are gender, sexuality and the body important areas for sociological study? How can these domains be seen to be political as well as personal? How have understanding around gender, sexuality and the body changed across time and cultures? How might experiences and practices of gender, sexuality and the body be impacted by intersectional factors such as race and ethnicity, ability and disability, faith, social class, age, and space and place? These are some of the key questions explored on this module, which will consider the diverse ways in which gender, sexuality and the body are understood and practiced at individual, collective and structural levels.

Digital Health (15 credits)

This module looks at the social implications of digital technologies in health, considering what these mean for our experiences of health and illness as patients and as citizens, for the work of health care professionals, and for the provision of health care. The module will consider a range of contemporary areas such as self-tracking and gamifying health, telemedicine and care at a distance, health information on the net, electronic patient records, illness death and dying on the web, and health activism and online patient groups. Drawing across these, the module will consider questions about changing representations and cultures of health and illness, whether we can all be medical experts now, who has responsibility for health, how we relate to health care professionals, the commodification of health data and the relative benefits for state and industry.

Visual Methods for Social Scientists (15 credits)

This module explores different approaches to understanding social reality by collating and analysing images. It will cover several methods such as compositional analysis, content analysis, and discourse analysis. It will also cover the use of different media such as magazine images, video and photography in social research. Ethical and intellectual property issues will also be dealt with such as copyright, anonymity and consent during the research process. Including the visual as part of a mixed methodology in research will underpin much of the material. You will be expected to take photographic images during the course.

Information Governance and Ethics (15 credits)

You will investigate topics related to the handling and governance of digital information and data in organisational and networked contexts. This will include an exploration of a) substantive issues and concerns e.g. accountability, decision-making, freedom, identity, intellectual property, openness, privacy, risk, security, and surveillance b) the design and use of relevant technologies e.g. Internet, DPI, digital rights, open source, P2P, social media c) systematic approaches and frameworks used in the regulation, governance and use of information in organizational and networked contexts e.g. copyright/left, data protection, freedom of information etc.

Digital Advocacy (15 credits)

You will examine how digital media are used to facilitate and promote the campaigns of contemporary advocacy groups and Non Governmental Organisations (NGOs). Theoretical perspectives such as connective action and the clicktivist critique of online activism are introduced in order to explore the effectiveness of online campaigns. You will also consider the criteria by which such campaigns can be considered successful, drawing on a range of case studies including the Occupy Wall Street movement and the so-called `Arab Spring' in North Africa and the Middle East in 2011.

Dissertation in Digital Media and Society (60 credits)

In the dissertation you will undertake an in-depth study on a topic of your own choice, which relates to digital media and society, and is guided by one-to-one academic supervision. It aims to enable you to develop and demonstrate skills in the planning, definition and management of a substantial piece of enquiry on digital media and society. The dissertation may take the form of a theoretical literature-based analysis, an empirical exploration, either through primary or secondary research, a work-experience-based piece of work, or it may incorporate elements of digital media production.
The content of our courses is reviewed annually to make sure it is up-to-date and relevant. Individual modules are occasionally updated or withdrawn. This is in response to discoveries through our world-leading research, funding changes, professional accreditation requirements, student or employer feedback, outcomes of reviews, and variations in staff or student numbers. In the event of any change we'll consult and inform students in good time and take reasonable steps to minimise disruption.
Information last updated: 13 August 2020
---
Explore all postgraduate courses
A masters from Sheffield means in-depth knowledge, advanced skills and the confidence to achieve your ambitions.