MSc Social Change and Policy
The MSc in International Social Change and Policy can be taken over a one or two year period. Teaching consists of a variety of lectures, seminars, laboratory classes, workshops and supervision in different areas of social work.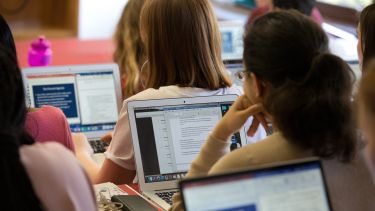 Full-time students will complete 180 credits during one year. 90 credits are allocated to core modules, 30 credits are allocated to optional modules and  60 credits are allocated to the dissertation, which provides the opportunity to focus in-depth on a topic of individual choice. Students can choose to do a standard dissertation or a dissertation linked to an internship. One-to-one supervision is provided for students when undertaking their dissertations.
Students who take this programme part-time will have a period of two years to complete. The part-time route is structured in the following way: students will take 90 credits in the first year and the remaining 90 credits in the second year. The dissertation, which is worth 60 credits, must be taken in the second year.
 Semester 1
International Social Change and Social Problems (15 credits)

This unit focusses on the processes, dynamics and consequences of contemporary social change from an international perspective. Key patterns of international social change are explored and analysed with reference to the main theories and at different spatial scales from the global to the local. The dominant discourses around the social problems ensuing from such changes are critically examined using Bacchis innovative theoretical framework `Whats the Problem Represented to be. Arguments will be applied through a number of cases studies, including: (international) migration, labour market change, economic competitiveness, population ageing and family change.
Innovations in Qualitative Research (15 credits)

This unit introduces students to a variety of advanced and innovative qualitative research techniques common to sociology and the social sciences more widely. The module provides students with a philosophical introduction to qualitative methodology, and covers a range of innovative research techniques including creative interviewing, sensory ethnography, mobile methods, longitudinal research, memory work, re-using qualitative data and participatory approaches such as the use of diaries and drawings. The module will also introduce students to a range of analytical techniques and covers innovative approaches to writing and communicating with qualitative data. Finally, the module will also introduce students to a range of ethical issues arising from creative and innovative approaches to qualitative research.
Quantitative Research & Fundamental Statistics (15 credits)

This module introduces students to the types of research designs and statistical tests that are used in quantitative research, and what the fundamental underlying logic and theories are that these methods of inquiry are based on. Students with any level of mathematical ability will learn about what quantitative research is, why it is needed, how to design surveys and experiments, the importance of sampling, about probability, hypothesis testing and common statistical tests (such as ANOVA, correlation, and regression). By the end of the module, students should feel confident in their core understanding of introductory statistics.
Semester 2
 Methods for International Social and Policy Analysis (30 credits)

The course will introduce fundamental ideas in data analysis and research methods in international comparative social and policy research. This unit introduces basic concepts such as what a methodology is as well as incorporating issues such as ethics and different philosophical perspectives on research design. The unit deals mainly with practical issues around the design of a research project including appropriate choice of methods and data. This includes an evaluation of available methods and software at a quantitative and qualitative level. The unit also focusses on methods for international policy analysis, including documentary research and policy evaluation.
International Social Change: Analysing Policy Responses (15 credits)

This unit examines policy responses at national, international and global levels to significant contemporary social changes occurring across the globe, including population ageing, migration, globalisation and new labour market risks and family change. It introduces the theoretical frameworks utilised in the analysis of social policy in global, international and comparative contexts, and the architecture of international and global social policy governance, so that students can understand the nature of social policy responses and their outcomes, as well as reasons for international variations in the logic of policy responses. It also introduces students to key debates about policy alternatives and futures.
Key Issues in Global Public Health  (15 credits)

This module introduces contemporary and historical public health discourses, policies and practices, before critically examining their practical and theoretical underpinnings. The module goes on to explore the role and actions of key global health players (e.g. individual governments, United Nations organisations, bilateral and multilateral partnerships, local and international non-governmental organisations and health care industries), and discusses the social determinants of health, considering how they might be tackled for improved health equity and social justice. The module then provides an introduction to major public health challenges in the contemporary world, illustrated through health issues (e.g. malnutrition, maternal and child health, mental health, sexual and reproductive health), socio-political issues (e.g. gender equity, trade, conflict, famine), and environmental issues (e.g. climate change, urbanisation, food security, waste management). Lastly, the module concludes by looking forward, in light of contemporary trends, whilst reflecting on lessons learnt, in order to sustainably improve global health in the future.
Digital Identities (15 credits)

This module explores how gender, age, race, class and other identities are being reimagined in what various commentators have called a `social media age'. It provides students with an in-depth understanding of social media platforms, roles in people's identity negotiations, examining users' social media identities in different global contexts, and paying close attention to the intersections between different identities. It reviews debates about identity formations from the earliest digital media moments and considers contemporary concerns, such as: anonymity and agency; selfies and sexting; censorship, resistance and collective identities; social media fandoms; masculinity and gaming.
Contemporary Challenges: Sociology of Brexit (15 credits)

Contemporary Challenges explores a key contemporary challenge in depth and applies key concepts in Sociology (e.g. class, race, nationalism, democracy) in analysing it. The focus of the challenge will change on a 3-4 yearly basis. In its first iteration, the module focuses on Brexit: ideas of class and `the left behind, English nationalism, nostalgia for empire, the media, and some of the impacts of Brexit in relation to everyday life. In doing so the module will develop a deeper understanding of the reasons behind the vote for the UK to leave the EU, as well as some of its consequences.
Migration and Families (15 credits)

This unit explores intersections between migration and families in theory, policy and practice, in UK and internationally. It critically examines dominant theories around migration and `the family' in the context of contemporary migration patterns and evidence of how migrants `do' family. It explores how migration policies, in interaction with labour market and welfare policies, stratify migrants' opportunities for family-life. Particular attention is paid to examining the transformative potential of migration for family practices (e.g. care-giving) and relations (e.g. gender and parental). Adopting a transnational lens, the role of migration in contributing to the configuration of non-migrants' family-life is also examined.
 Sociologies of the everyday (15 credits)

This module will explore theoretical and empirical insights into the mundane, personal and everyday. Beginning with an exploration of theoretical approaches to making sense of everyday, personal and mundane facets of the social world, the module goes on to explore key areas of everyday life including personal relationships; belonging in time, space and place; interactions between politics and personal life and everyday racisms. The module will also consider the challenges involved in attempting to 'capture' the everyday in empirical sociological research.
Theorising the City in the Global South (15 credits)

This module addresses debates at the interface between Urban Studies and Development Studies. Focusing on urban areas in the Global South, it looks at the city from a variety of spatial scales, from everyday practices of citizens at the grassroots level to the representation of the city within national policy and planning processes. It encourages students to think critically about the ways in which practitioners approach issues and define problems, and the theoretical viewpoints that inform their actions. The unit is taught primarily through combined lecture/seminars: these structure students¿ learning, and provide an environment in which they can develop their skills in researching, presenting and debating arguments drawn from the academic literature on international development and urban studies.
Urban Development in the Global South (15 credits)

This module looks at the challenges to urban planning and development in the global South: how are conflicting imperatives of ecological sustainability, social inclusion and economic competitiveness being balanced by practitioners, and what implications does this have for those living there? The unit will develop understanding of how urban planning systems are constructed and mediated by different actors. The unit will use a series of scenarios representing some of the diversity of conditions that exist in the global South to develop understandings of how planning systems shape, and are shaped by, the contexts in which they operate.
Ideas and Practice in International Development (15 credits)

This module looks at key challenges and debates in international development, and asks students to reflect on how these are shaping, and being shaped by, contemporary processes of social, economic and political change within the Global South. It encourages students to think critically about the ways in which practitioners approach issues and define problems, and the theoretical viewpoints that inform their actions. The unit is taught through a combination of lectures and seminars: these structure students' learning, and provide an environment in which they can develop their skills in researching, presenting and debating arguments drawn from the academic literature on international development.
Key Issues in Environment and Development (15 credits)

This unit engages critically with the key theoretical debates that shape the environment, society and international development. By looking at current questions in development theory and their relationship to development practice in the context of environmental change, it encourages students to think critically about the ways in which interdisciplinary approaches define issues and problems, and the theoretical viewpoints that inform their actions. The unit is taught primarily through seminars: these structure students' learning, and provide an environment in which they can develop their skills in researching, presenting and debating arguments drawn from the academic literature on international development.
Digital Health (15 credits)

This module looks at the social implications of digital technologies in health, considering what these mean for our experiences of health and illness as patients and as citizens, for the work of health care professionals, and for the provision of health care. The module will consider a range of contemporary areas such as self-tracking and gamifying health, telemedicine and care at a distance, health information on the net, electronic patient records, illness death and dying on the web, and health activism and online patient groups. Drawing across these, the module will consider questions about changing representations and cultures of health and illness, whether we can all be medical experts now, who has responsibility for health, how we relate to health care professionals, the commodification of health data and the relative benefits for state and industry.
The Sociology of Culture and Identity (15 credits)

This module provides students with a critical outline of the sociology of culture and identity. Students will come to recognise the key theoretical approaches to a critical understanding of the processes and social consequences of culture and identity. Culture is a defining feature of identity and contributes to how individuals see themselves and the groups with which they identify. Students will be given an overview of the growing importance of social identity studies and the tools to further research social identity. Students will be encouraged to use a variety of quantitative and qualitative methods to examine facets of popular culture.
Advanced social media research (15 credits)

This module focuses on innovative techniques that move beyond the traditional distinction between quantitative and qualitative approaches in the analysis of social media data. Students will critically discuss and apply some of the most contemporary digital methods developments. These include: - interface methods, that is, methods combining analytical traditions from digital media, social studies of science and technology (STS) and sociology; - app walkthroughs, that is, methods to explore the intersections of apps  original purposes, normalised meanings and implied users and usages; - techniques to detect bots and botnets in social media platforms; - techniques to investigate the circulation of fake news on social media platforms; - digital methods for visual research.
Global challenges in the digital society (15 credits)

Global challenges in the digital society explores in depth a series of contemporary issues that affect the relationship between digital media and society in the global context. Topics include, among others, digital labour and international digital labour platforms and markets; disinformation, misinformation and the challenges to traditional forms of expertise; mainstream social media platforms and cross-cultural contamination; decentralised digital networks and transnational collective action; digital media and transnational governance; AI and machine learning; urban automation and smart cities; blockchain and the politics of diffusion.
Governance and Participation in the Global South (15 credits)

Since the close of the twentieth century, intentional plans to improve the quality of governance in the Global South have become a significant part of international development, and the subject of specific policy agendas around promoting `good governance, democratic decentralisation, and enhancing public participation. This unit will use a growing theoretical literature on governance and the everyday state within the Global South to look critically at these policy agendas and their underlying assumptions. The unit is taught through seminars and workshops which structure learning, and help students to research these policy agendas effects within particular contexts through case studies.
Full Academic Year 
Dissertation in International Social Change & Policy (60 credits)

This unit enables students to undertake an in-depth study on a topic of their own choice, which relates to international social change and social policy, and is guided by one-to-one academic supervision. It aims to enable students to develop and demonstrate skills in the planning, definition and management of a substantial piece of enquiry on social change and policy responses from an international perspective. The dissertation may take the form of a theoretical or policy literature-based analysis, or it may additionally involve an empirical exploration, either through primary or secondary research, of a relevant topic.
Dissertation (With Internship) (60 credits)

This unit provides opportunity for supervised research in collaboration with an external body on an agreed topic in international social change and policy. Students are expected to identify, contact, and establish a learning agreement with an external organisation themselves, though the unit convenor and careers service will offer support. Students are also required to design, organise, and execute a research plan which will be developed with their dissertation supervisor. This module requires students to take a high degree of responsibility for the learning process and to manage their own learning, reflect on it critically, and seek and use constructive feedback.
The content of our courses is reviewed annually to make sure it is up-to-date and relevant. Individual modules are occasionally updated or withdrawn. This is in response to discoveries through our world-leading research, funding changes, professional accreditation requirements, student or employer feedback, outcomes of reviews, and variations in staff or student numbers. In the event of any change we'll consult and inform students in good time and take reasonable steps to minimise disruption.
Information last updated: 4 December 2020
---
Postgraduate taught scholarships
Explore scholarships for postgraduate taught courses starting in 2021:
100+ scholarships worth £10,000 each for home fee paying students
150 scholarships worth 25 per cent of the tuition fee for international students