Dr Asma Khan
BSocSc, MSc, PhD
Department of Sociological Studies
Research Associate
Twitter Handle: @DrAsmaKhan4111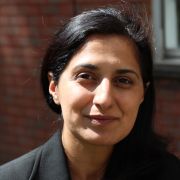 asma.khan@sheffield.ac.uk
Elmfield Building
Full contact details
Dr Asma Khan
Department of Sociological Studies
Elmfield Building
Northumberland Road
Sheffield
S10 2TU

Profile

Asma joined the Department of Sociological Studies in 2020.

Asma completed her PhD at Cardiff University. Her thesis examined high levels of economic inactivity among Muslim women in Britain. This was a mixed methods project that involved quantitative and qualitative research.

Asma worked as an academic researcher for a number of years before returning to postgraduate study in 2012. Alongside her academic research experience, she has worked as a freelance research consultant on a number of practice and policy based research projects for public and third sector organisations. 
Research interests

Asma's research interests include migration, ethnic and racial inequalities in the labour market, and the study of Muslims in Britain.

Asma is currently working on the Everyday Bordering in the UK Project with Dr Julie Walsh (PI).

At Cardiff University, she worked on  the Religious Nurture in Muslims Families Project and the Social Cohesion and Civil Law Project, both funded by the AHRC/ESRC Religion and Society Research Programme. 

Asma holds an honorary fellowship at the Centre for the Study of Islam in the UK at Cardiff University, and is a member of the executive committe for the Muslims in Britain Research Network.