Dr Calum Webb
BA (Hons), MA (Dist.), PhD
Department of Sociological Studies
Research Associate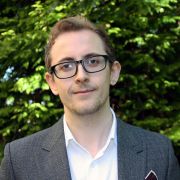 Profile

Calum joined the Department of Sociological Studies as a Research Associate in 2018 having previously held research posts both within the department (since 2015) and in the Department of Clinical Psychology from 2013-14. Prior to this, he worked as a project coordinator and research and project evaluation consultant in the third sector, and continues to volunteer supporting charities with data management, research and reporting. He was awarded his PhD from the University of Sheffield in 2019 (Thesis title: 'Constructing a reliable and valid measure of multidimensional poverty'). He holds a first-class Bachelor's degree in Sociology and a Master's degree in Social Research with Distinction, both from the University of Sheffield.

Calum is a sociologist specialising in advanced quantitative methods, Data Science, and the definitions, measurement, and impact of poverty, inequality, and social metrics in the UK. His recent research explores how nonmaterial dimensions of poverty can be integrated into poverty metrics and the relationship between poverty, income inequality, ethnicity, and child welfare interventions. He works at the intersection of Sociology, Social Policy, and Social Work that makes the Department of Sociological Studies unique.

He is interested in creating meaningful social impact from research by improving accessibility to research, data and statistics using techniques from Data Science (such as in the CWIP App www.cwip-app.co.uk) and in co-producing practice and policy recommendations and tools with professional organisations and experts by lived experience (e.g. the BASW Anti-Poverty Practice Guide for Social Work, or the Artificial Intelligence in Housing, Welfare, and Social Care Network https://ai-hows.sheffield.ac.uk).

He currently convenes SCS6106 Quantitative Research and Fundamental Statistics for the MSc in International Social Change and Policy. He has previously convened SCS3031 How to Lie with Statistics and MGT6167 Statistics for Occupational Psychologists.
Research interests

Calum's research is primarily about definitions and measurements of poverty and deprivation in the UK, and the relationship between poverty, social metrics, policy, and welfare, particularly in social work. He has training in an array of methods taken eclectically from advanced quantitative research, applied statistics, and data science, including multilevel modelling, structural equation modelling, cluster analysis, hierarchical spatial modelling, and longitudinal data analysis. He is a keen R user but is also trained in SPSS, Stata, Mplus, and other statistical software packages.

He has worked on projects that included developing an anti-poverty practice web application for data-informed policymaking and social work practice (www.cwip-app.co.uk); an Anti-Poverty Practice Guide for Social Work with the British Association of Social Workers; the Child Welfare Inequalities Project, where he was primarily responsible for analysing patterns in spending on children's and young peoples' services, as well as contributing to the quantitative aspects of a mixed methods case study design and advanced multilevel modelling for the reanalysis of preliminary research; and on the sector-led Care Crisis Review, analysing data from care experienced young people and adults, practitioners, and families, to investigate the causes behind increases in the rates of looked after children in the UK.

In 2019, Calum, alongside colleagues in other departments, started the University of Sheffield's Artificial Intelligence in Housing, Welfare, and Social Care Network (https://ai-hows.sheffield.ac.uk). His future research intends to explore how poverty metrics, Big Data, and AI-based tools and research can be coproduced alongside people whose lives are impacted by their use.
Publications
Grants

Grants and funding

Knowledge Exchange, the University of Sheffield

AI in Housing, Welfare, and Social Care Extending Participation & Coproduction

£1,470

PI

iHuman, Sheffield

Shaping the next generation of AI-enhanced social housing and social care systems (seed funding)

£4,800

CO-I

2019

The University of Sheffield Higher Education Impact Fund

The Child Welfare Inequalities Project App (CWIP App)

£9,981

PI

2019

Sheffield University Students' Union

Understanding the needs of Chinese students on postgraduate taught programmes

£1,000

PI

2019

Nuffield Foundation

Re-analysing the CWIP quantitative data set using multilevel modelling

£35,400

Co-I

2019

Innovation, Impact and Knowledge Exchange (IIKE) Collaborative R&D Award, The University of Sheffield

Developing a policy learning tool for anti-poverty policy design and assessment.

£12,722

Co-I, RA

2015-2016
Teaching activities

Calum currently convenes:

SCS6106 Quantitative Research and Fundamental Statistics

Calum previously convened:

SCS3031 How to Lie with Statistics (2017/18-2018/19)
MGT6167 Statistics for Occupational Psychologists (2018/19)

He also delivered teaching on:

SCS2000 Doing Quantitative Social Research (2016/17-2018/19)
SCS6087 Introduction to Quantitative Research (2016/17-2018/19)