Dr Chris Willman
BA (Hons) (University of Sheffield), MA (University of Sheffield)
Department of Sociological Studies
Research Associate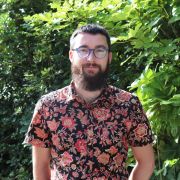 Profile

Chris joined the Department of Sociological Studies in 2019, having previously obtained a Bachelor's degree in Geography and Master's degree in International Development from the University of Sheffield. He is currently finishing his PhD in Development, Policy and Practice at the Open University (Thesis title: 'Children, Adolescents, and the Child Labour Debates in Bolivia'). He has also held a Visiting Lecturer role in Geography and International Development at the University of Chester (2017-2019).
Research interests

Chris' research interests are centred around children's rights, children's geographies and childhood studies. He is currently interested in: children's right to work and their understanding of rights; children's representation and political participation; perceptions and intersections of global childhoods/childhoods in the global north/south.

His current post is on the British Academy's Tackling the UK's International Challenges funded project, titled 'Children's Rights and Perceptions of Justice: The Challenge of Children's Representation', led by Dr Afua Twum-Danso Imoh. This project seeks to explore the politics of children's representation by trying to understand the interplay between the claims of different actors in the area of representation of children and their rights, including children themselves, and the basis upon which these claims are made. As one of eight international scholars, he will be exploring the politics of children's representation in a UK context, using the ongoing Brexit issue and negotiation as an example.

His PhD centres around the on the research question 'How do children and youth contribute to the child labour debates in Bolivia?, analysing children's perspectives and understandings on work and how these contribute to are affected by notions of children's rights, citizenship and childhood.
Publications
Teaching activities

During the 2019-2020 academic year Chris will be a GTA Tutor on SCS1004 Social Divisions, SCS1015 Doing Social Research and SCS3012 Southern Childhoods: Rights, Policies and Practices.