Dr Elisa Serafinelli
BA (Siena), MA (Roma TRE), PhD (Hull)
Department of Sociological Studies
Research Fellow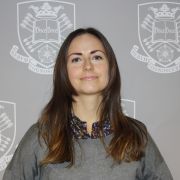 Profile

Elisa specialises in Media, Communication and Society with six years of experience in research and teaching. Elisa obtained her Doctorate in 2015 (Dpt of Social Sciences, University of Hull) with a research project focusing on the interrelationships between new mobile technologies and the social communication of photography. Her dissertation examined how the mediation of digital technologies affords the development of new social behaviors within the media convergence landscape.

Elisa started her academic career in Italy (BA Universita' di Siena, MA Universita' di Roma TRE) where she had chance to work as teaching assistant for various modules in Digital Media. Since the beginning of her studies Elisa has been developing a personal interest in the relationships between new media and visual communication. That experience allowed her to further work for other Universities (RUFA - Rome University of Fine Arts, Macquarie University of Sydney, University of Central Lancashire, and the University of Hull) and private institutions.
Research interests

Elisa's research focuses on the analysis of the use of mobile media and the social behaviors that arise from it. Particularly, she is interested in investigating how the mediation of digital technologies and social media platforms modify people's behaviors through thematic areas: political economy, privacy, surveillance, identity, memory, social relationships. Elisa is also interested in studying the practice of photo sharing and how visual communication online changes the people's daily habits.

Elisa's empirical work involves qualitative research methods from the field of human computer interaction and more ethnographic approaches. She is also interested in designing new online research methods for an appropriate study of mediated phenomena.
Publications

Books

Journal articles

Chapters

Conference proceedings papers

Reports
Grants

| Project title | Awarding body | People involved | Funded period |
| --- | --- | --- | --- |
| Drones in Visual Culture: Developing a New Theory of Visual Mobile Communication | AHRC Leadership Fellowship ECR Grant (Grant Ref: AH/T012528/1) | Dr Elisa Serafinelli (Principal Investigator) | 2020 - 2022 |
| 'Users' and developers' perspectives on drone usage' | UK Research and Innovation British Academy Grant /Leverhulme Small Research Grant (Grant Ref: SRG18R1\180618) | Dr Elisa Serafinelli (Principal Investigator) | 2018 - 2020 |