Dr Lauren Alex O'Hagan
Department of Sociological Studies
Research Associate
(She/her)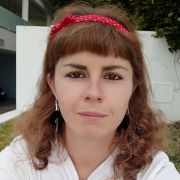 l.a.ohagan@sheffield.ac.uk
Elmfield Building
Full contact details
Dr Lauren Alex O'Hagan
Department of Sociological Studies
Elmfield Building
Northumberland Road
Sheffield
S10 2TU

Profile

Dr Lauren Alex O'Hagan is currently Research Associate in the Department of Sociological Studies at University of Sheffield, where she works on the AHRC-funded project 'Drones in Visual Culture: Developing a New Theory of Visual Mobile Communication'. Previously, she held Postdoctoral Researcher roles in the Department of Media and Communication Studies at Örebro University (Sweden) and the Centre for Language and Communication Research at Cardiff University (UK), where she researched communication on healthy and sustainable foods and class conflict in Edwardian book inscriptions, respectively.

Lauren obtained her PhD in 2018 (Cardiff University) with a research project entitled 'Class, Culture and Conflict in the Edwardian Book Inscription: A Multimodal Ethnohistorical Approach'. As part of her doctorate, she developed an ethnohistorical approach to multimodality, which blends social semiotic analysis with archival and historical research, in order to gain a better understanding of the ways in which people contest or perpetuate their social class, using language and semiotics to perform identity.

Lauren is passionate about interdisciplinary research and its real-life applications; her own work is strongly informed by her professional experience as an antiquarian bookshop manager, archive assistant and translator.
Research interests

Lauren is an experienced researcher with extensive knowledge in the practical applications of visual analysis techniques, specialising particularly in visual social semiotics and multimodal critical discourse analysis. She has pioneered a unique multimodal ethnohistorical approach to visual analysis that takes into account the historical context and sociocultural norms that guide the creation of visual artefacts, as well as how meaning potentials change over time. A monograph on the approach will be published with Routledge in spring 2021. This trans-historical approach, which seeks to historicise contemporary practices in order to better understand them, has formed the backbone of all her research to date.

Her research can be broadly split into four main strands:

Book inscriptions and performances of social class/power mediation: Lauren has investigated how different class groups in the late 19th/early 20th century used book inscriptions to contest or perpetuate their class identities by using language, image, colour, typography, texture and materiality. An important aspect of this research has been unlocking the 'hidden histories' of working-class and lower-middle-class individuals who have typically been left out of official records of the Edwardian era.
 
Food advertising/packaging and public health communication: Lauren has explored how food companies can circumvent legislation on food packaging and advertising by using semiotic resources to promote supposedly healthy eating discourses and convince consumers that a product is "healthy". She has also investigated how marketers shape public understanding of science by drawing upon the meaning potentials of language and other semiotic resources.
 
Postcards and propaganda: Lauren has a keen interest in the historical use of postcards to promote and spread political propaganda in a palatable format to the general public. Her research interests lie particularly in the women's suffrage movement and the Irish fight for Home Rule in the early 20th century.
 
Rock memorabilia: More recently, Lauren's attention has turned to rock memorabilia, particularly battle jackets, and how they are used by fans to signal individual and collective identity. She is also interested in 'authentic fandom' and participatory culture and has explored this in relation to such musicians as Rory Gallagher, Phil Lynott and Tom Petty.
Publications

Books

Edited books

Journal articles

Chapters

Exhibitions

Theses / Dissertations
Teaching activities

Although Lauren's current role does not involve teaching responsibilities, she has previous teaching experience within university and college settings. Since 2015, she has held a Certificate in English Language Teaching to Adults (CELTA), while since 2017, she has been an Associate Fellow of Advance HE (formerly the Higher Education Academy).

From January to June 2019, she worked as a visiting scholar in the Department of Media and Communication Studies at Örebro University in Sweden. Part of her role entailed tutoring and supervising students undertaking an MA in Strategic Communication.

From September 2016 to June 2017, she worked as a postgraduate tutor in the Centre for Language and Communication Research. She delivered seminars for the modules 'Introduction to Language' and 'Introduction to Language and Society'.

From 2014 to 2016, she worked as a supply teacher in English as a Foreign Language at Cardiff and Vale College.
Postgraduate Supervision

In her previous role at Örebro University, Lauren supervised two postgraduate students to successful completion:

Cassandra Abrache: Crisis Communication Management: A Case Study of Oxfam's 2018 Credibility Crisis
Anne Benischke: Truly Global, Proudly Scandinavian: Exploring Swedish Nation Branding on Volvo's International Instagram Channel
During this time, she also served as a panel member for two thesis defences.
Laurene is interested in supervising doctoral candidates relating to the research areas listed on her Research Interests page.