Dr Lauren White
(BA Hons, MA, PhD)
Department of Sociological Studies
Research Fellow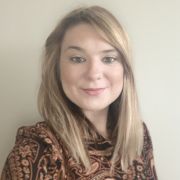 l.e.white@sheffield.ac.uk
Elmfield Building
Full contact details
Dr Lauren White
Department of Sociological Studies
Elmfield Building
Northumberland Road
Sheffield
S10 2TU

Profile

Lauren joined the Department of Sociological Studies as a Research Associate in 2019. Lauren now holds an ESRC postdoctoral fellowship titled 'Everyday Life with Irritable Bowel Syndrome (IBS): Mobilities, Accessibility and Belonging'. She holds a first-class Bachelor's degree in Sociology, a Master's degree in Social Research with Distinction, and a PhD in Sociology, all from the Department of Sociological Studies at the University of Sheffield. 

Lauren is a sociologist specialising in everyday life, creative qualitative methodologies and the sociology of health and illness. Her PhD research explored how those with the common health condition IBS navigated symptoms in everyday public and private life. As part of her research, she is also particularly interested in the socio-political dimensions of everyday toilet access. 

Lauren is driven by public engagement and impact in research, demonstrated by her close work with media outlets and supporting health charities in her work on IBS. In 2017, Lauren won the ESRC Writing Prize for communicating her research to broader audiences. 
 
Research interests

Sociology of everyday life 
Creative qualitative research methods
Sociology of health and illness
Mobilities 
 
Teaching interests

Lauren is not currently convening any modules in the 2020-2021 academic year but will be offering guest lectures. Lauren has previously taught on the following modules:

The Sociological Imagination
The Sociology of Health, Illness and Medicine 
Doing Social Research 
Introduction to Qualitative Research
Advanced Qualitative Research
Digital Health 

Lauren has also supervised BA and MA dissertations on a diversity of sociological topics.