Dr Łukasz Szulc
PhD, SFHEA
Department of Sociological Studies
Lecturer in Digital Media and Society
(He/him)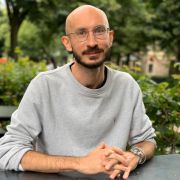 Profile

Łukasz joined the Department in 2018 as a Lecturer in Digital Media and Society. He defended his PhD on nationalism and transnationalism in queer digital cultures in the Department of Communication Studies at the University of Antwerp in 2015.

He is a recipient of European Commission's Marie Curie Individual Fellowship for the project on queer migrant identities and social media profiles, which he has conducted in the Media and Communications Department at the London School of Economics and Political Science.

Łukasz has been actively involved in the International Communication Association. He acted as the association's board member and co-chair of the LGBTQ Interest Group (2017-2021), after serving as the group's Student and Early Career Representative between 2016 and 2017.

Łukasz sits on editorial boards of three journals: International Journal of Communication (2019-), International Journal of Cultural Studies (2020-) and Communication, Culture and Critique (2020-), and he acts as an area editor for Oxford Bibliographies in Communication (in the area of gender and communication).
Research interests

Łukasz's work is dedicated to cultural and critical media studies which investigate the role of media in everyday life. He has been particularly interested in the intersections of queer, national and transnational identities in the context of globalisation and digital media.

He usually discusses those topics from the perspective of Central and Eastern European countries, particularly Poland, advocating internationalisation and de-westernisation of media studies.

His current research project looks into the transformations of identity in the digital media landscape of the early XXI century, examining self-presentation practices of Polish LGBTQs in the UK.

Research areas:

Cultural and critical media studies
Digital media and identity
Queer theory and LGBTQ studies
Nationalism and transnationalism
Central and Eastern Europe, particularly Poland
Qualitative research methods
Publications

Books

Edited books

Journal articles

Chapters

Book reviews

Reports

Other
Grants

Facelook: Identity Management on Social Media by Diasporic LGBTQs, European Commission's Marie Skłodowska-Curie Postdoctoral Fellowship, Principal Investigator, London School of Economics and Political Sciences (UK), 2016-2019 (approx. €195,500)

Transnational Homosexuals in Communist Poland: Cross-Border Flows in Gay and Lesbian Magazines, Research Foundation Flanders (FWO), Postdoctoral Fellowship, Principal Investigator, University of Antwerp (Belgium), 2015-2016 (approx. €110,000)

(Trans)national Queers Online: An Analysis of LGBTQ Websites in Poland and Turkey, University Research Fund (BOF), Doctoral Fellowship, Principal Investigator, University of Antwerp (Belgium), 2010-2014 (approx. €170,000)
Teaching activities

Łukasz is an MA Digital Media and Society Programme Leader and he teaches modules for BA and MA programmes in Digital Media and Society. He currently teaches:

Perspectives on Digital Society (MA)
Queer Theory and the Media (BA)

Previously, Łukasz also taught 'Digital Identities' and 'Social Media, Data and Society' in the department as well as 'The Audience in Media and Communications' and 'Media, Technology and Everyday Life' in the Department of Media and Communications at the London School of Economics and Political Science (LSE).

He was awarded the Senior Fellowship of the Higher Education Academy (SFHEA) in 2019.
PhD Students

Łukasz is currently supervising two PhD students:

 Julin Huang, rural influencers on short-video platforms (co-supervised with Helen Kennedy)
 Sylvia McCheyne, transgender movement in the UK (co-supervised with Sally Hines)