Dr Maria Teresa Ferazzoli
Department of Sociological Studies
Research Associate
(She/her)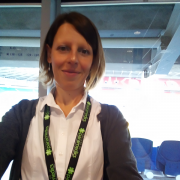 m.t.ferazzoli@sheffield.ac.uk
Elmfield Building
Full contact details
Dr Maria Teresa Ferazzoli
Department of Sociological Studies
Elmfield Building
Northumberland Road
Sheffield
S10 2TU

Profile

Maria Teresa joined the department in 2014 as a PhD student and began teaching in 2013. Before commencing her PhD studies at Sheffield she completed a Masters' degree in Psychology at "La Sapienza" University of Rome and she worked as a project coordinator and research with the Newark branch of the national mental health charity Mind. Since 2018, Maria Teresa has become a Research Associate in the department.

She was awarded her PhD from the University of Sheffield in 2019 with the thesis "The formation of deinstitutionalization discourses in Italy and England: a cross-national archaeological study".
Research interests

Maria Teresa's research interests are focused on exploring mental health policies. In particular, her research seeks to explore the international differences in practices and mental health systems. Her PhD research focused on the historical process of deinstitutionalization of psychiatric services in Italy and in England.

As a research associate in the department of Sociological Studies, Maria Teresa has worked on research projects that explore particularly sensitive subjects, including the role of faith-based organisations in anti-trafficking led by Dr Hannah Lewis, and the ESRC Impact prize winning project "Post-mortem matters: challenging taboos and changing practice", led by Professor Kate Reed.

In her current post, Maria Teresa is working on the research project "Everyday Bordering' in the UK: The impact on social care practitioners and the migrant families with whom they work", led by Dr Julie Walsh. The study examines the intersections of place, immigration policy, migrant families everyday lives and social care practice.

She is also working on the EU Horizon 2020 fund project "MIMY: EMpowerment through liquid Integration of Migrant Youth in vulnerable conditions". The project takes an innovative multi-method approach which places young migrants at the centre of knowledge creation about their resilience, resistance and integration, and the impact of intersecting social inequalities.
Publications