Dr Robin Sen
BA (Hons), Dip SW, SFHEA, MSW, MPhil, Msc, PhD
Department of Sociological Studies
Lecturer in Social Work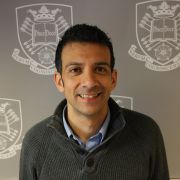 Profile

Robin took up his current post as a Lecturer in Child and Family Social Work at Sheffield in September 2010. Prior to that he was a Teaching Fellow at the University of Strathclyde for three and a half years.

Robin's practice background is as a children and families practitioner in Glasgow, where he had a particular focus on working with looked after and accommodated children.

Robin is also a qualified Practice Teacher in social work.
Research interests

All of Robin's research has been connected to issues in children and families practice, with particular emphasis on issues of safeguarding and work with looked after children.

Robin is currently developing work looking at how looked after children use new technology and professional responses to this.
Publications

Journal articles

Chapters

Reports
Grants

2017-18 Title: Exploring similarities and differences in child welfare between the UK and New Zealand

Sponsor: Worldwide Universities Network (WUN) Research Mobility Programme Award

2016-17 Title: Developing specialist practice resources for child welfare and family support practitioners (with Dr Harriet Churchill and Dr Jadwiga Leigh)

Sponsor: Innovation, Impact and Knowledge Exchange (IIKE) support fund, University of Sheffield

2015-16 Title: An Evaluation of Leeds City Council Social Care Innovation Programme (with Prof. Kate Morris)

Sponsor: DfE / Leeds City Council

2013 Title: Evaluation of a Family Recovery Project (with Dr Harriet Churchill)

Sponsor: Rotherham Metropolitan Borough Council / University of Sheffield

2011-12 Title: Video Interaction Guidance Pilot with Newly Qualified Social Workers

Sponsor: Higher Education Academy

2010-11 Title: Literature Review: Improving Child Protection Practice in Scotland

Sponsor: Institute for Innovation and Research in Social Services

2010-11 Title: Analysis of Selected Significant Case Reviews

Sponsor: Glasgow Child Protection Committee

2009-11 Title: Evaluation of the Graded Care Profile : Parental and Practitioner Perspectives

Sponsor: The British Association for the Study and Prevention of Child Abuse and Neglect

2008 Title: Professionals' Experience of Managing Contact

Sponsor: University of Strathclyde

2007 Title: Literature Review : Historic Abuse in Residential Child Care

Sponsor: Scottish Government
Teaching activities

This year Robin is sole co-ordinating:

SCS6064 Skills for Direct Practice on the MA in Social Work;
SCS633 Evidence Informed Practice on the MAIP;
SCS6667 Out of Home Care on the MAIP.

With Nora McClelland and Bev Jowett, Robin is managing a University Engaged Curriculum Funding Award to develop a series of Living Library Events within social work modules.

Robin is an External Examiner on the MA in Social Work at Cardiff University.
Practice interests

Robin's interests derive from issues that he grappled with as a practitioner and have subsequently developed through teaching and research.

Looked after children: Robin is interested in work to improve outcomes for looked after children, social work decision making around children's placements and the management of contact.
Evidence based interventions with vulnerable children and families: Robin is interested in developing a clearer evidence base for effective social work intervention with children and families to address identified concerns.
Organisational issues and their impact on children and families practice: Robin is interested in how organisational and political issues impact on the delivery of social work services and how effective frontline social work practice can successfully develop within these frameworks.