Dr Steve Spencer
BA (Hons), MA, PhD
Department of Sociological Studies
University Teacher in Social Policy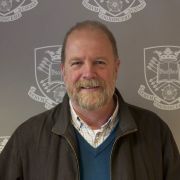 Profile

Steve joined the Department of Sociological Studies in 2016, having previously taught as a Senior Lecturer and researcher in Sociology at Sheffield Hallam University since 1998. Before this he worked and studied at several universities in Australia since the early 1980s.

In 2008 he completed a PhD by Publication in 'Developing Research-informed Strategies for Teaching 'Race' and Ethnicity in Higher Education'. This reflected many years of research and publication, including studies of: race and ethnicity, media culture and identity, urban boundaries, space, place and identities, uses of representation and the development of visual methodologies.

As well as books and articles he has also produced several videos including: pieces on moral panics (based around an interview with Prof Chas Critcher), media culture and the media coverage of the 2003 war in Iraq (with Prof. Bob Franklin) as well as ethnographic pieces on homeless Aborigines in Darwin, and two pieces researched in Nova Scotia: Africville: a contested homeland, Interviews with Five African Canadian Women Discussing Identity.
Research interests

Steve is developing a new text on the Sociology of Culture as well as a planned 2nd edition of his 2011 text on Visual Methodologies: Awakening Visions (Routledge), both of which will require some small pieces of action research.

Two recent pieces of completed collaborative research include:

Into the Divide: Community Identities and the Visualisation of Place

A long-term collaboration with Dr Andrew Cox (Information School), this has been a study of the dynamics, divisions and representations of the local Sheffield community of Broomhall. (It is due for publication in June with Visual Studies). The study broke new ground by involving several residents in producing their own maps while being interviewed. This was a piece of research started in 2010 and ongoing until 2015.

Desert Island Data: An Experiment in Researcher Positionality (2015)

A small collaborative piece of research with colleagues at Sheffield Hallam University. The process was to analyse the transcripts of several BBC Radio 4's Desert Island Disc interviews and to compare approaches and interpretations. The study (soon to be published) was conducted by Dr Jon Dean and contrasted the approaches to highlight disciplinary boundaries; demonstrating both the richness of methods yielding diverse interpretations, but also the blind spots and potential for learning across disciplines.
Research group

In the last ten years Steve has worked with many PhD and Masters students as Director of Studies, supervisor, rapporteur and external examiner.

The topics included:

A Study of the Nepalese community in Doncaster;
Indigenous Community Health and Wellbeing in Chile;
Photography of the Paradigm of the trace;
A Critical Exploration of Facebook: The Corporation and its Users;
Study of the 'Pretenders' - Football fans and Hooligan.
Teaching activities

In the 2016-17 period Steve has been the Module Convenor for:

Understanding Inequalities (SCS1003) – A lecture based module which presents key areas of social inequality from class, gender and ethnicity to disability, age and immigration. The lectures include a lively mixture of theoretical and empirical data to deepen the understanding of the issues and also relate them to current affairs (e.g. migrant crisis, Brexit etc).
Social Divisions (SCS1004) – A first year seminar-based module which also draws on the lectures for SCS1003.
Sociology of Culture & Identity (SCS6085) – This Masters elective module takes students through issues of culture and identity including studies of visual culture, art and aesthetics, the body, sense of place, the life of things, postcolonialism and identity politics.