Dr Thea Shahrokh
BSc (hons), MA, PhD
Department of Sociological Studies
Research Associate
(She/her)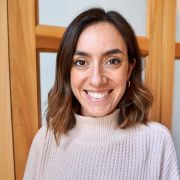 t.shahrokh@sheffield.ac.uk
Elmfield Building
Full contact details
Dr Thea Shahrokh
Department of Sociological Studies
Elmfield Building
Northumberland Road
Sheffield
S10 2TU

Profile

Thea Shahrokh joined the department in March 2020 as a Research Associate on the EU project MIMY: EMpowerment through liquid Integration of Migrant Youth in vulnerable conditions. Prior to joining Sheffield she undertook her PhD research 'Young people with migration-related life experiences: navigating identities and belonging in South Africa' with the Centre for Trust, Peace and Social Relations at Coventry University, using participatory arts and story-based research methods. 

Thea is an interdisciplinary researcher with a background in sociology and psychology and whose work covers the intersections of development, migration and youth studies. From 2012-2016 Thea was a Research Officer working on themes of participation, gender equality, and collective action at the Institute of Development Studies, where she also innovated in the use of participatory and creative research methodologies. She has also worked on research, policy and advocacy projects within the voluntary and non-profit sector within the UK and Global South.

Thea is a Board Member of the Visual Sociology Research Committee of the International Sociological Association (ISA RC57), with special responsibility for the Rachel Tanur Memorial Prize; and is an Associate on the Migration and Health Project Southern Africa at the African Centre for Migration and Society, University of the Witwatersrand, South Africa.
Research interests

Thea's research interests focus on issues of social justice and include youth migration, identities and belonging; gender and social inequalities; violence and exclusion; participatory and arts based methodologies; and the ethics and politics of knowledge production. Thea's research grows from her commitment to generating complex and applied knowledge with and for people affected by power inequities. She is passionate about working with young people in particular, whose powerful experiences are often overlooked. Thea has designed and delivered qualitative, participatory and creative research with people affected by marginalisation and their communities, including young migrants, asylum seekers and refugees in the UK, Canada and South Africa, and male refugees affected by sexual violence in Uganda.

Thea is a Research Associate on the EU Horizon 2020 funded research project MIMY: EMpowerment through liquid Integration of Migrant Youth in vulnerable conditions. The project takes an innovative multi-method approach which places young migrants at the centre of knowledge creation about their resilience, resistance and integration, and the impact of intersecting social inequalities. This role builds on her PhD research where she collaborated with young people with migration experiences to creatively produce knowledge in support of their sense of belonging in South Africa. It also connects to her work in the field of participatory and visual research at Coventry University, specifically the SSHRC (Canada) funded project, For Us by Us: Children's Picture Books to Promote Solidarity and Acceptance in the Age of Refugees from 2018-2020.
Publications

Journal articles

Chapters

Book reviews

Reports