The research skills I was able to learn and enhance throughout my course have proven to be very useful in my working life
BA Sociology graduate Adam chose the University of Sheffield after falling in love with the place on an Open Day. Following graduation, he went on to study for an MA Social Research in Sheffield and now works as a Business Developer.
What was the best or most useful thing about the course you studied in the Department of Sociological Studies?
The research skills I was able to learn and enhance throughout my course have proven to be very useful in my working life so far, and I think they're the most valuable skill that I took from my undergraduate degree.
Why did you decide to study at the University of Sheffield?
I first came to The University of Sheffield on an Open Day and I was really impressed by the Students' Union and the sports facilities that were here. Looking into it further, I found modules on the course that interested me right the way through the three years of my undergraduate degree. Also, the cost of living in Sheffield is really cheap compared to other cities!
What is your fondest memory from your time in Sheffield?
Being a part of the Sociology Society, because it was how I met some of my best friends at university. In particular, I enjoyed our society trip to Berlin in my second year. I felt as though I got to know people so much better!
What has your career path been since graduation?
I studied an MA in Social Research at the University of Sheffield immediately after my undergraduate degree. After completing that, I took up a role as a Business Developer for an engineering company based in Hull.
Tell us a little about your current role?
I look for new opportunities for the business, put together plans for my sector going forward and speak to people external to the business, such as clients or other groups it may be important for us to contact. My research skills that I was able to learn during my degree come in particularly useful if I'm researching a client or a potential competitor!
Where do you see yourself in the future?
I honestly don't know, but I think that's exciting! Studying for a Sociology degree gives you skills that you can apply to pretty much any job, so I'm open-minded about the future and any opportunities that might come my way.
What piece of advice would you offer new students to the Department of Sociological Studies at Sheffield?
Make sure that you make the most of opportunities outside of your degree that are unique to university. For example, I was Social Secretary and then President for the Sociology Society, which were both really fun and also looked impressive when I was applying for jobs. Additionally, during my masters year, I was lucky enough to attend the G7 Summit in Italy and get pieces of writing from the summit published.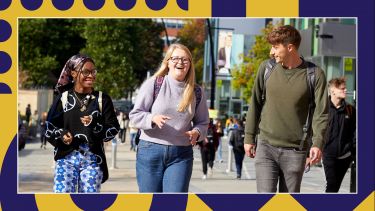 Advance Register for Clearing
We have places on our undergraduate courses this autumn. If you've already got your results you can apply now, or if you're still waiting for results get your name on the list by advance registering.