When I was researching sociology courses offered by different Universities, I felt that Sheffield offered the most interesting modules
The wide variety of optional modules available in the second and third years of study were what most attracted Lisandra to study with The University of Sheffield.
Why did you decide to study this course at The University of Sheffield?
When I was researching Sociology courses offered by different Universities, I felt that Sheffield offered the most interesting modules and I was most attracted by the various  optional modules I could choose in second and third year. I also liked that the programme provided the option to study abroad in a partnered University for a year, which sounded very exciting!
What are you enjoying most about your course?
Generally, I enjoy the way my course challenges the way I think about aspects of everyday life that I take for granted. I also love meeting students from other courses who take optional modules in Sociology as it has broadened my social circle at University.
My favourite lecturer is Dr Matthias Benzer because the way in which he engages with the course content in the lectures and seminars reflects a real passion for the subject area. I have found this inspiring and it has encouraged and challenged me to read more literature so that I am able to communicate key ideas with the same level of passion and confidence!
What do you think about Sheffield as a city? What's your favourite thing to do here?
I love Sheffield so much that I decided to stay at home during my studies. I would say it is a very friendly city that has something for everyone. I personally enjoy going for walks in the peak district with my friends, as well as going out to eat; there's a range of restaurants, representative of many nationalities that if you love trying something new every time, the opportunity is definitely there!
Any advice for new students?
Once you have settled into your new home and studies, make the most of your first year by trying lots of new things. I know it can be very overwhelming coming to a new city but make every effort to enjoy all the opportunities open to you through the University as well as Sheffield in general. Go out, explore, have fun,  you won't regret it!
What are your plans for the future?
I am currently interested in international development and I hope to pursue work in this field after my studies.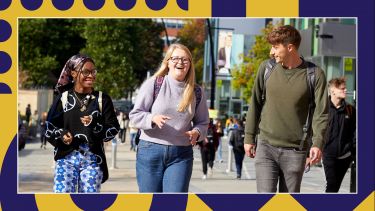 Advance Register for Clearing
We have places on our undergraduate courses this autumn. If you've already got your results you can apply now, or if you're still waiting for results get your name on the list by advance registering.