As Chief Financial Officer, Helen is responsible for developing and implementing dynamic and future-focused financial strategies to support the University's aims, whilst maintaining sound financial oversight and administration in managing the University's financial affairs.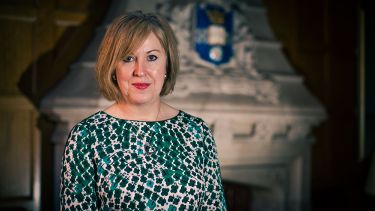 In 2017 Helen was nominated by colleagues for her contribution to the life of the University in the Portrait of a Woman initiative.
An ambassador for professional women who are under-represented in the world of finance, Helen is leading by example as the University's first female Chief Financial Officer. Her work is vital to all aspects of University life, as she implements dynamic strategies while protecting the University's financial interests.
Helen's professional life began as an office junior in a small refractory company in Rotherham, a position which ignited her interest in finance. After studying for accountancy qualifications in her own time and gaining further experience, she joined the University as a financial accountant, where she also studied for an MBA. Helen's courage and determination allowed her to progress through the department to the position she holds today.
In her day-to-day work Helen demonstrates unfailing professionalism, dedication and commitment in all aspects of her role. What sets her apart is her deep commitment to all her staff irrespective of position or grade, her sense of fairness and being true to herself and her beliefs. She does the right thing – however difficult that may be and that is something to be acknowledged and admired. She really does lead by example and we as a department and University are better for it.

Portrait of a Woman award

Words from Helen's colleagues
Helen is a member of the Chartered Institute of Management Accountants and has an MBA from the University. She also has a non-executive role with Sheffield Money.