Joanna Carter
Scientific Technician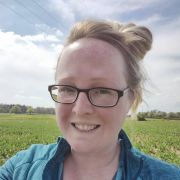 Profile

Jo started working at Rothamsted Research in 2015 working on achieving higher yields of crops by using various organic amendments, including earthworms. An article she wrote about earthworms and farming practices was featured in the BBC Countryfile magazine.

Jo has a background in arable, sheep, pig and chicken farming, gaining her BSc (hons) Animal Science back in 2008 and working in various teaching, farming and lab roles.

For the past 7 years Jo has been collecting GHG data on various field sites, and is currently the lead Technician on the Greenhouse Gas Removal via Enhanced Rock Weathering project.

Jo's main roles are setting up and running the field site, collecting samples (GHG, soil, soil pore waters, rainfall, river and bore holes) gathering data and carrying out analysis in the labs.