Mechatronics and Robotics Engineering taster session
Mechatronic and Robotic Engineering has the potential to positively transform the world we live in. Come along to this taster session to see if this could be the right course for you.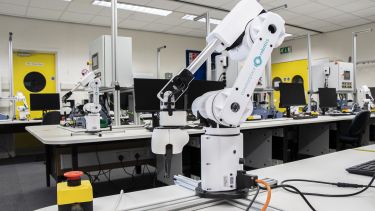 Robotics: How can we control and shape our future with robots?
How will robots affect our future? Whether you imagine them tidying your home, being part of the production line in a factory, servicing in a hospital, or deriving your cars on the road, robots are here to stay and will play a huge part in our world.
In this taster session we will explore how to design and drive the behaviour of robots to improve our lives. We will also present how we envisage robots to deliver the medicine of tomorrow to targeted and precise parts in our bodies. You will be able to acquire a taste of the engineering skills on how to build and control robots in fundamental tasks across these domains. As a prospective engineer of tomorrow, you will have the opportunity to glimpse an exciting future world with robots and feel in control of this technology.
---
Register Your Interest
To hear about future sessions, please register your interest and we'll send you details about upcoming dates.
---
Contact us
For informal enquiries please email tasterdays@sheffield.ac.uk
Explore the University
Discover why Sheffield is the right choice for you at one of our open days or events.