Health, Science and Engineering
Join us for our online interactive session to explore a variety of courses in the fields of health, science, and engineering. You'll hear from our current undergraduate students, and may discover an exciting course that you haven't considered studying before!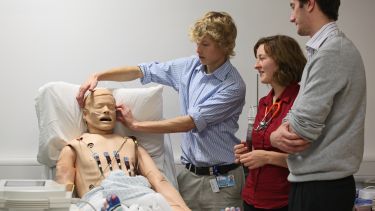 It's not just Doctors and Dentists - explore the alternatives to a degree in medicine
Please note, this session will not be discussing any aspects of studying Medicine or Dentistry subjects at university.
There's more to healthcare than medicine. Everyone knows about Doctors but there are plenty of routes into a career in the healthcare sector that don't involve studying a degree in medicine. During this session you will explore the diverse range of options and opportunities available outside of a medicine degree and discover a variety of courses in the fields of health, science, and engineering.
We'll help you match these courses to your skills and interests, and look at where these exciting courses can take you. You will have the chance to take part in two interactive workshops, to immerse yourself in a subject that you may not have considered studying before. There will also be plenty of opportunities to talk to current undergraduate students and staff from the University to get all of your questions answered.
---
Register your interest
To hear about future sessions, please register your interest and we'll send you information about upcoming dates.
---
Contact us
For informal enquiries please email tasterdays@sheffield.ac.uk.