Data Science Taster Session
Ever wondered how Netflix recommends which film you should watch next or how Spotify automatically generates playlists based on your favourite songs? Come along to this taster session from the Information School to find out how the data science behind it works.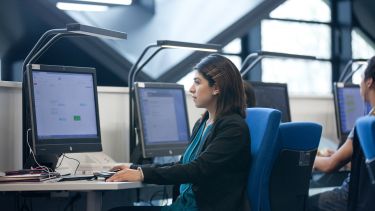 Recommender Systems: How does Netflix choose what you watch?
Ever wondered how online services like Netflix, Amazon or Spotify recommend new items for you to watch, buy or listen to? Come to this taster session to find out how data scientists use machine learning and information collected every time you interact with such services to recommend new items you might like. In this session, we will explore the core data science concepts behind recommender systems. Using real data, we will show how similar items can be identified to help users navigate through an overwhelming number of products on offer. The taster session will be led my Dr Morgan Harvey, a leading researcher in the field of recommender systems and the coordinator of the Information School's BSc in Data Science.
There is no prior reading required for this taster session, however, attendees may want to think about how they use recommender systems in their everyday lives and how they think these systems might work beforehand. 
---
Register Your Interest
To hear about future sessions, please register your interest and we'll send you information about upcoming dates.
---
Contact us
Explore the University
Discover what sets Sheffield apart at our next on-campus open day.