PhD student completes internship with social justice and human rights organisation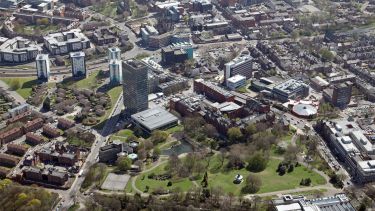 PhD student Philippa Hughes has completed an internship with Just Fair, an organisation that monitors and advocates the protection of economic and social rights. Just Fair works to ensure that UK law, policy and practice complies with domestic and international human rights obligations.
In her time with Just Fair, Philippa completed a research report on the right to housing in the context of the climate emergency in the UK for Just Fair's partner the Women's Budget Group (WBG). She also presented key points from this report to a WBG roundtable event and wrote a blog for Just Fair's website. As well as this, Philippa prepared Just Fair's contribution to the WBG's submission to the Treasury Committee's Call for Evidence: An Equal Recovery.
"This internship allowed me to develop a good understanding of the relationship between housing, human rights and climate change that was a very enriching context to inform my wider area of study," Philippa said.
"Working with an NGO to parse research into policy recommendations gave me insight into how academic research can be leveraged to create impact. This highlights how the work that we do in Urban Studies and Planning as researchers continues to inform thinking on these important topics beyond our immediate sphere of influence. Finally, the internship has given me valuable insight into possible paths I could take after my PhD that make use of the skill I am developing here at USP."
Supervised by Professor John Flint, Philippa's research explores the factors involved in the development of the community led housing sector in England. It is intended that Philippa's research findings will support an understanding of the wider environmental, political, and social factors that enable or constrain community led housing development.
Just Fair are collaborating in the ESRC-White Rose Doctoral Training Partnership research network 'Urban citizenship and informality: new dynamics in the context of global urbanisation', led by Dr Melanie Lombard (Department of Urban Studies, University of Sheffield), with colleagues from the University of York and the University of Leeds. The internship opportunity emerged from this collaboration.
Find a PhD
Search for PhD opportunities at Sheffield and be part of our world-leading research.