The history, mission and events that make up Sound Junction.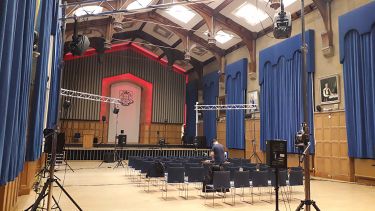 Sound Junction is one of the UK's longest-running and most significant concert series dedicated exclusively to acousmatic, electroacoustic music.
Over the past 15 years, it has presented a wide range of home-grown, national and international composers to the public, including many of the world's leading electroacoustic figures including:
Francois Bayle
Francis Dhomont
Annette Vande Gorne
Beatriz Ferreyra
Daniel Teruggi
Elizabeth Anderson
Elainie Lillios
Denis Smalley
Trevor Wishart
Jonty Harrison
Annie Mahtani
Hans Tutschku
The Sound Junction series has one central aim: to make acousmatic, electroacoustic music accessible to a listening public, by presenting the most exciting and innovative music from around the globe, live in concert. Using a purpose-built sound diffusion system, and with technical support from the University of Sheffield Sound Studios, these events present acousmatic music in ideal listening conditions; a dark, concert space filled with loudspeakers, thus allowing for concentrated, dedicated listening.
Concerts are often prefaced with public talks, in which aesthetic and technical ideas are shared with the audience. In recent years, this audience has grown considerably; the two main events in the series have been supplemented with smaller satellites that pop-up in venues throughout Sheffield.
Events at the University
Browse upcoming public lectures, exhibitions, family events, concerts, shows and festivals across the University.