Sound Junction Main Programme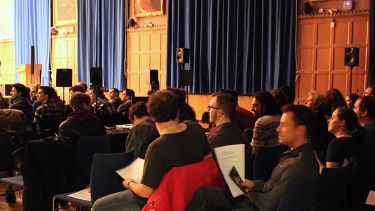 Sound Junction remains online in April (but watch out for our November 'live' event, currently slated for 26,27 November). For our April event we are delighted to present new work from USSS, and welcome two very special guests who will curate a short programme of their music. João Pedro Oliveira and Elainie Lillios will join us as they present new music for computer, instruments and video. 
---
Sound Junction 30th April 2021 Main programme

| | | | | |
| --- | --- | --- | --- | --- |
| Set 1. João Pedro Oliveira - 19:30 | (duration approximately 40 minutes) | Media | Year | Dur |
| João Pedro Oliveira | Video Introduction |   |   |   |
|   | Petals | visual music | 2016 | 8:00 |
|   | In Tempore | piano, electronics and video | 2000-2015 | 11:00 |
|   | La Mer Émeraude | acousmatic | 2018 | 12:00 |
|   | Tesseract | visual music | 2017 | 9:00 |
| Set 2. USSS - approximately 20:20 | (duration approximately 34 minutes) |   |   |   |
| Dimitris Savva | Echo the nymph of reflection | acousmatic | 2020 | 9:30 |
| Chris Bevan | Over | Roudeille | acousmatic | 2020 | 10:48 |
| Julia Schauerman (sound) Jean Hogg (photographs) Nicola Schauerman (code) | Into a Several World | visual music | 2021 | 5:00 |
| Mario Caceres | Sophie's Dance | acousmatic | 2020 | 7:36 |
| Set 3. Elainie Lillios - approximately 21:10 | (duration approximately 40 minutes) |   |   |   |
| Elainie Lillios | Video introduction in conversation with Adrian Moore |   |   | 11:45 |
| Bonnie Mitchell (video) and Elainie Lillios (audio) | Sweeping Memories | visual music |   | 3:30 |
| Elainie Lillios | Immeasurable Distance | percussion and electronics | 2019 | 10:26 |
|   | Listening Beyond... | acousmatic | 2007 | 8:41 |
| Bonnie Mitchell (video) and Elainie Lillios (audio) | Paradigm Shift | visual music |   | 6:00 |
---
---
Five World Premieres - join the Facebook page
Sound Junction uses a purpose-built, multi-speaker sound system and darkness to create the ideal listening conditions (just not tonight :). Surrounded by strange yet familiar sounds, this setting gives your mind the space and your imagination the freedom to take you on a personal journey through 3D soundscapes familiar and new.
We are delighted to welcome music from two special guests, Professor Dale Perkins who has drawn from his beginnings as a visual artist and classical musician to create a hybrid music that resides at the vanguard of computer music, Rick Nance; an acousmatic composer and a free improvisation trumpet and guitar player. We are also thrilled to welcome back Louise Rossiter, with her incredible project creating a sonic journey through Fritz Kahn's pioneering infographics of the human body. Also including pieces from the University of Sheffield Sound Studios composers, Julia Schauerman and Mario Caceres. Please do join us in the chat room after the concert for a quick Q+A. 
Rick Nance - Tearing up (8:33, 2020, Stereo) - WP new version
Julia Schauerman -  MetalWorks (14:17, 2020, stereo) - WP
Louise Rossiter - The Iris-Key (8:45, 2020, stereo) - WP
Mario Caceres - Muddle (9:44, 2020, stereo) - WP
Dale Perkins - Equipoise (parts 1- 3, 18:14, 2020, AudioVisual) - WP 
RoundTable Q+A online with composers
A live streamed concert featuring the best of live-coding and electroacoustic composition. Starting at 7.30, expect an evening of sound both immersive and frenetic – as performers explore the possibilities in live coded music, and acousmatic composition. We're especially excited for some binaural live performances from our live-coders – so you'll be able to experience 3D binaural effects at home. Binaural sound is a way of creating the illusion of 3D sound through stereo audio – it's a strange but immersive experience, and can be achieved through any pair of headphones. Right now, that might be the closest you get to the real thing, and it should be a lot of fun!
Estimated schedule:
7.30pm to 8.30pm – Live-coded performances from Alex McLean, Gerard Roma and Anna Xambo
8.30pm to 9pm – Discussion of the potential of binaural effects in live coding and a Q & A (access link will be sent out to the audience).
9pm to 9.40pm – Acousmatic pieces from Sound Junction friends and University of Sheffield Sound Studios followed by a preview of the forthcoming concert on the 21st November with Rick Nance, Dale Perkins and Louise Rossiter.
Che Gorka:

Octopus

: (11:26, 2020, Binaural Mix for headphone listening)

Ruaridh Summers

: SBADOA - Startled By A Display Of Affection (5:48, 2020, Stereo)

Anna Wilson

: Ice Organ (5:45 – 2020, Audio-visual)

The performances will be followed by a short zoom recording featuring Rick Nance, Dale Perkins and Louise Rossiter in conversation with Adrian Moore and Adam Stanovi

ć

.
---
Sound Junction Online April 2020: Thank you to all that tuned in - full event video available. 
After a very successful Sound Junction live stream on Friday 17th at 19:30 GMT with a varied programme of works from the USSS stable, we are delighted to present the concert in its entirety at the following link 
---
Saturday 4th April 2020
Concert 3: 17:00 USSS
Julia Schauerman - Take Flight (2020)
Mario Cáceres – Vanishing (2020)
Adrian Moore - Audiogentry (2019)
Concert 4: 19:00 with special guest Thierry Miroglio (percussion and electronics).
Benoît Granier - Imaginem Mundi Per Orbern Sonus Saturatiorbis (Percussion and electronics)
Tom Williams - A Shadow that Falls (unpitched percussion and fixed media)
Adam Stanovic - Exchanges of Pace (Electronics and vibraphone)
----------------interval---------------
Sam Hayden - Le Retour à la Raison (Percussion and live electronics with film by Man Ray)
Paulo C. Chagas - Sisyphus of the Ear (Percussion, Film and electronics: Film by Johannes Birringer)
(Thierry MIROGLIO, solo Percussion)
Coronavirus thinking as of 04.03.2020. Current thinking from government and TUoS Concerts is that with due care and attention this event is going ahead. However, the situation is clearly volatile. 
---
Tickets and Pricing
For tickets and pricing visit http://concerts.sheffield.ac.uk/ 
Accommodation
For accommodation information in Sheffield visit  http://www.welcometosheffield.co.uk/visit/stay
What to expect at Sound Junction April 2020
All being well Sound Junction is set to run in April 2020. Electroacoustic Music events are probably never considered as 'mass gatherings' so unless you hear otherwise, we look forward to welcoming you to Sheffield. Diversity is our key driver for this festival and our final concert features the incredible Thierry Miroglio performing on a battery of percussion. Each work is for different forces, both electronic and percussive, and there are video accompaniments to two of the works. Our 5pm concerts on both days are exclusively for local talent (both new and established). For those new to these events, students start working in stereo (2 channel) and produce pieces that are easily consumed over a pair of loudspeakers or headphones. They craft sounds over time and this creates spaces new and / or familiar and takes the listener on a journey of sorts. Therefore in order to do full justice to the physicality of their creations we perform works in concert over 32 loudspeakers that allow for a fully immersive experience. If a sound 'sounds distant' it can be placed in the distance; if a sound is meant to fly overhead it can be placed in loudspeakers above the audience. In many respects this practice of sound diffusion is very much like lighting diffusion. One can spotlight sound and create a wash or flood of sound. The practice demands rehearsal and therefore forms a critical part of the education and development of student composers.
We are very fortunate in Sheffield to be well located to other centres of excellence in electroacoustic music. Our 7pm concert on Friday sees a welcome return of composers from Leeds and Leicester that have come to Sound Junction in the past and enjoyed performing and socialising with our group. Louise Rossiter was a special guest back in November and she performed a series of pieces inspired by the infographics of Fritz Kahn. We didn't get to sample her last work in this series but we do now. This work brings pulse to the foreground and is a really spirited addition to the set. Rick Nance's 'Tearing up' encourages us to focus in on the detail of his excellent sound recordings and careful editing. Dale Perkins' music is often quite bold in his use of pulse. 'Equipoise' is no doubt going to rock the room. 
Adrian Moore and Adam Stanovic present recent works from USSS community projects. Over the past two years, USSS composers have taken field recording trips to places of cultural significance. Soundscape recordings have been crafted into new works that act as musical commentaries on place, space, culture and society. The opportunity to develop this practice will hopefully see USSS working with the National Forest and other regional initiatives in the coming months. In a climate of massive change, the ability to record, reflect, listen, remember and learn is a stimulus for artists to create and a golden opportunity to share our auditory experiences. 
---
Sound Junction 1 - November 2019
Friday 22nd November 2019
17:00 Composers working in University of Sheffield Sound Studios
Chris Bevan: Salten Drift 
James Surgenor: Terra Forma
Che Gorka: Kick
Julia Schauerman: Ariel Dreams
Mario Caceres: Lead a Pony
Ben Felstead: The Origin of Our Species
Isaac Baggaley: Desert Honey
18:15 CD Launch: Join us for a complimentary glass of wine as Louise Rossiter launches her new CD which features works exploring silence, soundscape, and the first three works of the Music – Bodies – Machines project, based on the infographics of Fritz Kahn. The latest work, Neuronen, comparing the nervous system (impulse and reflex responses) of the human body to the mechanisms of a doorbell, will be a world premiere at Sound Junction.
19:00 USSS + Special guest: Louise Rossiter (listen here). 
Louise Rossiter: Homo Machina
Adrian Moore: Audiogentry
Louise Rossiter: Fairytale Journey
Short interval
Adam Stanović: Baltazar's Adventure through the Great Machine
Louise Rossiter: Neuronen (Premiere)
Louise writes:
"The visual crossover between industrialisation and science in Fritz Kahn's artwork demonstrates the means by which human nature became culturally encoded by placing the knowledge of the human anatomy within the context of the modern, industrial world. Kahn produced lots of illustrations that drew a direct functional analogy between human physiology and the operation of modern technologies of the times. Therefore, by illustrating the body as a factory, Kahn was able to relate the body's complex organic interior to the industrialised space so common in society during the 1920's."
"Neuronen is the fourth work completed as part of the Der Industriepalast suite – a collection of works based on the infographics of Fritz Kahn. In July 2019, I was invited to present a seminar based on my research at the University of Sheffield, and was challenged to document exactly happens when I respond to Fritz Kahn's infographics in my acousmatic compositions.
This piece was composed in direct response to this challenge and intends to directly describe aurally, over 9:33, what happens in a split second, and and is repeated millions of times a day in the human body. It attempts to achieve through sound, what Fritz Kahn's infographics do visually - that is, the understanding, or at least, some comprehension of an extremely complicated process." (Louise Rossiter)
Saturday 23rd November 2019
13:00 Special guest Dimitris Savva: Moments of Liberty (complete) - listen here
Moments of Liberty 1: Outside & Insight
Moments of Liberty 2: Falling Within
Moments of Liberty 3: Standing Without
Moments of Liberty 4: Towards the Sea
This concert will last approximately 1 hour.
17:00 USSS
Matt Pinker: Dusk
Lorenzo Prati: Acqua Calda
Ross Davidson: Industry
Adam Stanović: Would be to Seek
Adrian Moore: Nebula Sequence
19:00 Special guests: Andreas Weixler and Se-Lien Chuang (piano and electronics) - see their concert link
Interval
Weixler/Chuang: Die Rache der Normalbegabten (Piano and live electronics)
Andreas Weixler: Broken Bowls - talk
Se-Lien Chuang: gula huset
Andreas Weixler: Water Ghosts
Events at the University
Browse upcoming public lectures, exhibitions, family events, concerts, shows and festivals across the University.