USSS teaching covers all aspects of music technology including scoring for film, electroacoustic music composition, and computer music programming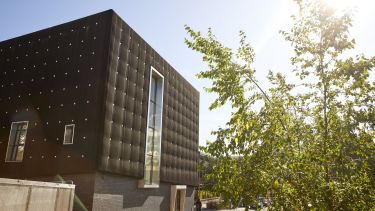 We support undergraduate and postgraduate study in music technology, sound recording, computer music and electroacoustic music. At undergraduate level, our studios are open to students taking modules in composition, sound recording and sound and moving image.
USSS is the centre for a diverse range of activity, including various flavours of electroacoustic composition, software and hardware development, audio-visual art and interactive instrumental work. USSS is committed to the performance of new music and theoretical research into the aesthetics and analysis of electroacoustic music. USSS comprises a 20 PC laboratory space, two single-user composition spaces and two recording studios (control room + live room). Two control rooms have multichannel monitoring.
First year
Students pick up a baseline set of skills in editing and transforming audio, understanding digital sound, typesetting music, using handheld recorders and creative/active listening. A skills-based module in the first semester leads to a second semester module where the assessment is a series of creative phrases and a small electronic piece contextualised within a number of computer music genres. The concept of glitch for example is contextualised within Kim Cascone's seminal paper on the subject [Cascone, K. (2000). The aesthetics of failure: "Post-digital" tendencies in contemporary computer music. Computer Music Journal, 24(4), 12-18.].
Second year
In this year, students continue to recognise the need to 'skill-up' while producing something more than a series of exercises to prove their learning. Our training modules focus on sound recording, sound and music for film, original electronic music composition and computer music programming. 
Assessments are normally creative in nature and can consist of:
Series of recordings
Electroacoustic pieces
Music for film or game realisations
Graphical computer music programming examples
Students learn the vital task of understanding how a creative assignment might be assessed in terms of quality of materials, demonstration of understanding and concept, acquisition of a personal 'voice'.
Third year
Students can create a portfolio of compositions that may include electroacoustic pieces or use instrument and live electronics. If their practice is less experimental (a portfolio of recorded songs, an EP from a local band, music for film), students take the Special Project module which has at its heart 'collaboration and presentation' outside of the University and the formulation of your own public profile of work.
Examples of how each project could work are:
Portfolio of recorded songs: the songwriter would work with a lyricist or present their own songs at a public performance outside of the University
EP from a local band: the band would be the 'client' in this case.
Music for film: the student would work with a filmmaker from the South Yorkshire region.
In all these cases, the assessment is through a personal website set up by the student that is the foundation of their employment profile (or showreel).
---
Postgraduate
At this level, students come to us with extant portfolios of creative work. It is vital that these works are seen to be explorative in nature. There must be a clear and evident need to seek further training and creative context as well as the need to return to academia, to read and write about music as well as creating it.
We have a strong community of international composers and performers studying for research degrees. These students are now focused upon answering questions through musical discovery and academic contextualisation of work. At this point in a student's study, they are set upon creating and publishing their work as a highly original contribution to their field of knowledge. Their work will exist for performance and study. Research questions can be technical but are often creative. We work very closely with applicants to formulate their online application form.
Study Music at Sheffield
The Music Department at Sheffield offers a broad spectrum of degrees delivered by some of the world's finest music researchers.
A world-class university – a unique student experience
Sheffield is a research university with a global reputation for excellence. We're a member of the Russell Group: one of the 24 leading UK universities for research and teaching.