How to use your Group's 404 pages tab to identify errors and provide a better experience for website visitors.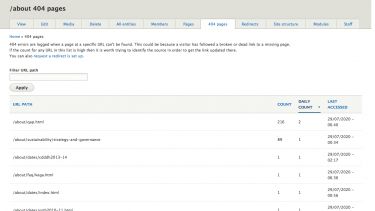 What is the 404 pages tab?
A 404 error is generated when a visitor tries to access a URL but no page is found. This could be because they followed a broken or dead link to a missing page. The 404 pages tab in your Group shows a list of these URLs.
If your site was migrated from the Legacy CMS then we'll have set up some redirects and organised your pages to reduce the chance of this happening.
But as a Group owner we'd recommend that you regularly check the 404 pages tab and consider taking the actions below to help maintain the health of your website and improve the experience for people visiting.
Types of 404 URLs
The list of URLs on the 404 pages tab are ordered by the number of times that error has been logged, either overall (the Count column) or a day (the Daily column). So a high number is more of a concern than a low number. It's a good idea to also order the list by last accessed and daily count to see if any new errors have recently appeared.
Look at the most popular or recent URLs in the list and see if they fit into any of the categories below. Then follow the suggestion for what to do.
Important: generally we're not able to set up a redirect to a non-University website as this could be confusing for a user and also associate the University with content which we do not own.
---
Course information
Try to ascertain the level of study – for example undergraduate, postgraduate taught or PhD study – and then request a redirect to the most appropriate section Hub or content page on your Group website. So you'd request a redirect from a former undergraduate course page URL to your undergraduate study Hub.
---
Event
For past events, request a redirect to any information about the old event on your website. If this does not exist but a similar event is running in the future then you can request a redirect to the page about the upcoming event.
If it is an old event with no information online about it or no equivalent new event then do nothing.
---
Research centre
If there is a relevant reference to a research centre or theme on the Group website then request a redirect to there.
If the research centre has moved outside of the department website and it is still part of the University of Sheffield then consider requesting a redirect to there. If the University is no longer involved then this is probably not appropriate, so do nothing.
---
Staff profile
If the member of staff still works at the University, request a redirect to their new profile page.
If the member of staff has left, do nothing.
---
Content for current students
Request a redirect to your department's most appropriate source of information for current students.
---
Other content
For a URL previously featuring any content not covered by the above areas, if you can identify a suitable page to send visitors to as an alternative then request a redirect.
It may be that there is no suitable alternative. In this case, do nothing.
---
URL with external web addresses at the end of it
This probably means that the http:// has been left off the start of an external URL when inserting the link in the CMS. So try to identify the source page and fix it by pasting in the full URL, including the http://.
Get in touch
If you have CMS questions or are stuck then get in touch and we'll do our best to help.