Use Promotions to highlight the single most important thing for visitors on your website and also provide relevant centrally-curated related content for your audience.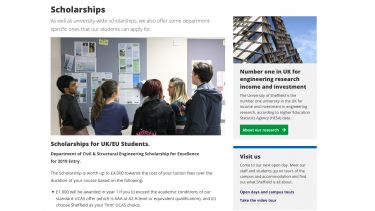 A Promotion is a box containing title text, body text, a link and, if appropriate, an image which appears alongside the main content on a page. Up to two are used on each page, the first promoting content in your Group and the second one signposting content across the wider website.
You can see an example Group Promotion and Central Promotion on this page.
When?
You should include the Group Promotion and a relevant Central Promotion on all pages that you create, unless there is good reason not to.
Why?
The two Promotions are a way to easily highlight a top task or an important message to visitors. The sit alongside core information in the centre area of the page but are separate to it.
How
There are three components which appear in the sidebar (on larger screens) or below the main content (on smaller screens) on a page:
Group Promotion – one per Group website.
Central Promotion – one chosen per page from a bank managed by Corporate Communications.
Promo box (legacy) – to be retired when Group and Central Promotions are established.
---
This single Promotion appears on all pages with your Group. It's managed and edited by Group owner/s on the Edit tab in the Group, so get in touch with them if you have a suggestion for what should be promoted.
Ideas for Group Promotions
Use a Group Promotion to promote content relevant to your whole Group website. Corporate Communications will keep Central Promotions (see below) up-to-date with relevant content such as open days and Clearing, so don't duplicate these as a Group Promotion.
Here are some ideas for your Group Promotion:
A link to the most common top task – eg 'Browse latest vacancies' on the Jobs website.
A study-related Promotion to help explain to prospective students how one of your courses will help their career aspirations.
A research Promotion which demonstrates the impact of research from your department.
An event Promotion which plugs an upcoming event.
A recent statistic or ranking related to your department.
A Promotion highlighting your outstanding facilities.
A link to your department's Contact page.
We'd recommend that Group owner/s try to plan ahead and make a schedule of what to use the Group Promotion for over the course of the year.
Preview the page to see the current Group Promotion. You can stop a Group Promotion from appearing on a page by ticking the 'Hide Group Promotion here' box near the bottom of a Content type. Pages generally look more balanced with a minimum of one Promotion, so if you do hide the Group one then do consider including a Central Promotion.
If there's a key call-to-action for a particular page then include it within the main body of the page itself, not as the Group Promotion. You can also use the Related information links to signpost any page-specific related content.
Components
Title
Keep this short. Be direct with what you are trying to say or write something intriguing to catch someone's eye.
Body text
Aim for one sentence maximum.
Link/s
Aim for one link maximum. Single links are displayed as buttons. Groups of two or three links are displayed as text links.
You should be able to link to an email address by adding the mailto: suffix before the URL - for example mailto:digital.help@sheffield.ac.uk
Image
If you have an appropriate image then you can display this as part of your Group Promotion. Don't feel you have to use an image on a Promotion, as too many can make a page too busy. An image replaces the blue bar at the top of the box.
Videos can't be inserted as a Promotion. As well as displayed too small on some screens, it's a better video experience to link through to a larger video embedded on a page with further contextual information around it.
---
This slot is managed by the centrally by Corporate Communications and can't be edited by Group members.
For each page you create you'll need to choose the Central Promotion type most relevant to the content and audience. The list of available Promotions will change, but examples you can choose from include
Study at Sheffield (not specific level)
Undergraduate study
Postgraduate taught study
Postgraduate research/PhD
General
Event
Research
Alumni
For example, any pages aimed at prospective undergraduates should be assigned 'Undergraduate study'.
This page (only viewable on the University network) shows a list of available Central Promotions. The contents of each may change. For any queries about the content of Central Promotions please email digital.help@sheffield.ac.uk.
If you aren't sure which one to use, select 'General'.
Preview the page to see the selected Central Promotion. You can stop a Central Promotion from appearing on a page by selecting 'None' from the dropdown menu.
Central Promotions do not appear on the News index Content type.
---
Corporate Communications will keep Central Promotions up to date with relevant content. Typically this will include open days and major campaigns.
Don't feel like you have to always use an image on your Group Promotion.
Images take up quite a bit of space on a Group Promotion, so don't feel like you always need to use one.
An important call to action related to the content on the page should be within the main body of the page itself. Promotions should only be used for related content.
If you feel you still have a need for multiple Promotions then please talk to us by emailing digital.help@sheffield.ac.uk. We may be able to offer a solution based on Components from a library which can be used across many pages on your site.
Get in touch
If you have CMS questions or are stuck then get in touch and we'll do our best to help.
A world top-100 university
We're a world top-100 university renowned for the excellence, impact and distinctiveness of our research-led learning and teaching.