Create structures for your postgraduaduate courses in the online prospectus to show the available modules.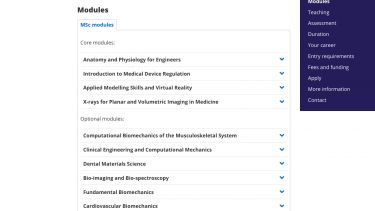 Who can use this Content type?
Group Supervisors, Group Owners, Group Editors (edit, unpublish, archive).
When?
Use the PGT Course structure Content type to maintain a course structure on a relevant course page in the online postgraduate taught prospectus.
Why?
This Content type helps you present the course module information to website visitors in a consistent and CMA-compliant way as part of the main course listing.
How?
Existing courses in the CMS online postgraduate prospectus will have a PGT Course structure created for them in the relevant Group and populated with modules. When Corporate Communications have been notified of a new course, an empty course structure will be created in your Group ready for you to populate and publish.
Course structures use module data which comes directly from the central University system.
---
Components
If you're setting up a brand new PGT Course structure and are finding that pressing the 'Add another item' add module button takes 10-15 seconds each time then we strongly recommend that you build an empty version of the structure, with the approximate number of empty modules in each year, before you start looking up and adding each individual module. Don't save halfway through, as you will lose the empty module slots.
Course title
The title followed by the award. Used to manually match this course structure to a course in the prospectus.
Years this course structure applies to
Used to manually match this course structure to a course in the prospectus. Tick the years which this structure can be applied to. The idea is that if a course structure doesn't change between years of entry, we can use the same one for different course year pages. If it does change then a new course structure will be created for the second year.
If you untick a year then you will need to let Corporate Communications know so they can ensure the course listing in the prospectus is pointing to the correct PGT Course structure.
Year block
These can be reordered.
Year/tab name
Use MSc modules etc.
Year intro
Space for some limited text about that year of study below the year title list, if required.
Module blocks
These can be reordered.
Optional sentence of text
A line of text which can sit above the modules block. This would usually be something like:
Core modules:
Modules
Look up approved* modules from the central system to add to this modules block. We strongly recommend that you look up a module using the module code.
You can create additional module blocks within a year and reorder them as necessary.
Module data
You can request changes to a module description or title in SITS using the Curriculum Management: Modules and Assessment system. Fresh module data is exported into the CMS every week, usually on a Tuesday or Wednesday. Any new, approved modules are included in the export.
Approved modules are part of the current approved programme regulations. It is the most up-to-date module data available. New programme regulations are usually approved in May for courses starting in September of the same year. So for the period May 2022 to May 2023 we are using module data from 2022-23 programme regulations on all courses in the prospectus.
If you spot any strange characters in a module description (such as an upside-down question mark in place of an apostrophe), these can be fixed at source in Curriculum Management: Modules and Assessment. Someone with access should go into the module description and overwrites the bad character with one typed in manually. This should then be corrected in the next weekly export and then show on the website.
Declaration
This needs to be ticked each time you save the Content type. The last checked/saved date, time and your username will be stored and printed on the form.
Current state
If you are considering changing the status to 'Unpublished' then first email digital.help@sheffield.ac.uk so that any links to this page from the central prospectus can be removed.
---
Other things to note
To minimise confusion for website visitors, the information on these pages should be contained to only that about modules. All other core course information should be located inside the online prospectus
This Content type has no external-facing URL of its own and should not be linked to from other pages on your site
You do not need to insert a PGT Course structure into your site structure
The only place where this information will be published is inside the online postgraduate prospectus
Approved module data is updated weekly from the central system. This should include any new modules and changes to existing modules
If you are creating a modules page for a dual honours course then liaise with the sharing department and agree on having the course modules information on a single page
It is your responsibility to keep a PGT Course structure up to date and accurate
Get in touch
If you have CMS questions or are stuck then get in touch and we'll do our best to help.