Create basic or detailed profile pages for members of staff inside your department.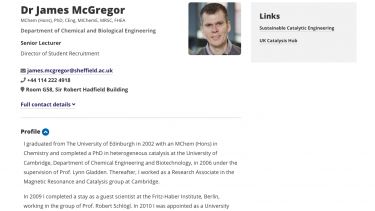 Group supervisors, Group owners, Group editors, Group Staff profile editors (create, edit, unpublish, archive
Public CMS only
This Content type is exclusive to the public CMS. On the Staff and Student hub, use the Staff contact list Content type.
Example
When?
Use this Content type to build up a bank of profiles pages about members of staff in your department.
If a member of staff is in another department then you should use the Staff profile link Content type to link to their profile. Staff should not have multiple profiles.
Staff members profiles may be used across multiple departments so consider how to make information relevant to everyone. 
Why?
Using this Content type will present information about staff in a consistent way for visitors and also give you the flexibility of creating lists of staff using the Staff profile index and Staff profile link Content types.
How?
Choose the Staff profile Content type then assemble the page by populating the relevant tabs, as explained on this page.
For a basic profile, complete the first tab of the profile titled 'Required information'. For more detailed information on a staff member such as their research interests, teaching activities and publications, you can add information in the other tabs. 
Professional services staff typically only have a basic profile while academics and research staff will likely have a more detailed profile.
Important
Before you create a profile for a member of staff, read the guidance for the Staff profile index Content type. It may be that for your department you can use the telephone directory to populate your lists of staff and don't need to set up any specific profile pages at all.
If you do need individual Staff profile pages, first create a parent Staff profile index and publish it. This will enable you to set the Staff profile index as the parent page for any Staff profiles when you place them in the site structure.
---
There are five tabs which you can edit as part of this Content type:
1. Required information tab

For a basic profile, you only need to fill in the first tab. If you have more information about a member of staff then insert this on the other tabs.

Member of staff category

Choose one or more of these. They're used to list the profile on different Staff indexes inside and outside your Group.

Title

Not required. Usually only used for Professor, Dr or similar.

We'd recommend that you don't use Mr, Mrs, or Ms etc here. Other profile websites like Orcid, ResearchGate and LinkedIn don't use these titles and they add more unnecessary information to the page.

First name

You can include the initial for a middle name in this field. For example: John C.

Surname

This can include double-barelled surnames.

Email address

Untick 'Show email address' to stop this from showing on profile pages, index pages and cards. Do not put in two email addresses in this field - doing so will prevent people from being able to correctly format the email address and send an email to you.

Telephone number - main

Always format as +44 114 XXX XXXX or +44 7XXX XXXXXX. Untick 'Show telephone address' to stop this from showing on profile pages, index pages and cards.

Telephone numbers - other

Space for optional second and third telephone numbers, for example mobile phone numbers or a phone line in another location. You can also insert some text to describe what the telephone number is for, for example 'mobile' or 'fax'.

Main job title

The primary role for the member of staff. Appears on profile pages, index pages and cards.

Department name

 

If your department is missing then

contact us

. For someone from an external organisation use 'External partner'.

Location

Used as part of the address. If the location you want is missing then you can request a new location.

Profile name (automatically generated)

This is used by the system to generate the profile and can be ignored.

2. Additional information tab

Post-nominals

Separate these with a comma. Keep this short. Use the Qualifications field for more detailed information.

Other job titles and roles

For any other job titles or positions which you'd like to show on the Staff profile.

Room/floor

For any specific information about where the member of staff is based which might help someone locate their office. On the profile, the building name is automatically put in after the room or floor information.

Consider carefully whether you need to publish a member of staff's room number, and how essential this is for an external audience. The University GDPR guidelines state that it is not advisable to publish specific location information such as room numbers. We recommend that you consult the member of staff who's profile it is to ask what their preference is.

Office hours

Useful if someone works irregular hours.

Links

These are displayed in the Promotions area.

If the member of staff is involved with PhD study then this is a good place to link to your department PhD study opportunities page.

Social media

For each social media platform or channel, paste the full link to the profile in the URL field. The link text can be customised for each. For example a Twitter profile might be:

URL
https://twitter.com/sheffielduni

Link text
@sheffielduni

A specific or general icon will be placed next to the link on the Staff profile. Specific current icons include:

Blogger
Facebook
Flickr
Google+
Google Scholar
Instagram
LinkedIn
Medium
Pinterest
Reddit
Snapchat
Tumblr
Twitter
Vimeo
Vkontakte
Wechat
Weibo
Wordpress
YouTube

3. Profile tab

Image

Choose an image from your Group image library. The Square 1:1 crop as this is used on the Staff profile. Because this is displayed on the Staff profile as a small image, we recommend you adjust the Square 1:1 crop so it is quite tight around the face. When cropping, never exclude someone's chin - although you can exclude the top of their head if you need to.

If you're uploading a new image then make sure you set a crop for both Lanscape 16:9 and Square 1:1.

Summary

Particularly useful for listing research interests for academic members of staff. Displayed on cards but not the actual profile itself. There's a 200 character limit to make sure the text fits, so write succinctly and be direct. Examples for summarising research interests:

Development and analysis of sustainable processes and clean energy systems.
Carbon dioxide utilisation, biomass conversion, energy materials and petrochemical processing.

Profile

Used for the main profile text. For academic members of staff, it is preferable to use the specific sections on the For academic/research staff only tab instead of creating multiple sub headers within the Profile section.

First or third person? The text-heavy parts of many existing Staff profiles are written in the first person (the I/we perspective) or the third person (the he/she/it/they perspective).

We recommend that Staff profiles in Groups are written in the first person as it feels more direct and approachable for website visitors. It's also helpful if types of content are written in the same style for people browsing different departments across our website.

But ultimately the Group owner and the department staff may decide which voice they want to use. At the very least, aim for consistency across Staff profiles within your Group.

Qualifications

For more detailed information about the person's qualifications and career history.

4. For academic/research staff only tab

Orcid ID

Insert a member of staff's Orchid ID to include a link to their Orchid page.

Profile focus

Use this to move the research-related accordion items above the teaching ones, or vice versa. The default is research-focused.

Research interests

For expanded information about research interests.

Publications

If the member of staff is using myPublications, you can insert their University username and automatically pull through their publications. We recommend that you get the member of staff to review what is showing and then use the controls to customise this. Options include:

Show publications – a member of staff can designate key publications as favourites in myPublications. Choosing 'Favourites' here will then only show the favourited publications on the web page
Show favourites – used in combination with 'All publications' in the 'Show publications' dropdown. When ticked, the page will show a 'Featured publications' section in addition to 'All publications'
Show anchors – if there are a large number of publications being shown on the web page, choosing 'Show anchors' will add links under the main Publications header to help visitors navigate to the different types of publications
Show most recent publications and Start year – use these options to limit the number of publications shown on the webpage

Research group

Information about any research groups and students which the member of staff supervises.

Grants

For information about grants the member of staff has received.

Teaching interests

For subject areas the member of staff can teach.

Teaching activities

For more specific information about the member of staff's teaching activity - for example the courses or modules they teach.

Professional activities

For information about any other roles they have inside or outside the University.

5. Custom accordion tab

If the content about the member of staff does not fit the available sections then you can add your own accordion and information here.
---
When you insert a Staff profile into the structure of your site, make sure it is in the most appropriate place. This is usually with a specific Staff profile index as the parent. For example:
as a child of the Staff profile index called 'Staff':
Group website name > People > Staff > Staff profile
as a child of the Staff profile index called 'Academic staff':
Group website name > People > Staff > Academic staff > Staff profile
With this in mind, it may make sense to create a parent Staff profile index before you create a child Staff profile.
---
To remove a Staff profile from your site, follow the normal steps to unpublish and archive a page. Remember to check the usage and remove any links to the Staff profile before you unpublish and archive it.
---
It makes sense to create a parent Staff profile index before you create a Staff profile. You then only need to place your Staff profiles in your site structure once
Before you create a profile for a member of staff, check to see if one already exists in the CMS in another Group. If so, use the Staff profile link Content type to link to their profile instead of creating a duplicate
If you're pulling through myPublications we recommend that you get an academic member of staff to review what is showing and then use the controls to customise this
You only need a few basic bits of information to create a stub Staff profile. So you could create basic profiles for all your staff with the minimum information and then flesh these out as time permits
Try and include a 200-word summary for academic members of staff, as this is used prominently on cards
Use the Staff tab in your Group to quickly see all the Staff profiles and Staff profile links in your Group, even if they're unpublished
---
Has a member of staff contacted you, reporting that the publications on their profile page does not match those listed in their myPublications? If after giving the system 24 hours to update there is still a reported mismatch, follow these steps:
1. Ask for specific details

2. Check that the profile page has not been customised in the CMS

3. Verify that the publications are correctly configured in myPublications

4. Check the feed
Get in touch
If you have CMS questions or are stuck then get in touch and we'll do our best to help.