Accommodation: moving in to the new CMS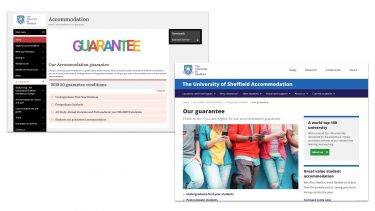 From an early point in the project, we knew that Accommodation had to be one of the first sites to be migrated, as our research found that it ranked very highly as a top task for prospective students.
It wasn't our biggest site to-date, as we reduced it from just over 100 pages to a nice, round 75, but it's one that merited a lot of thought and hard work. We wanted to make sure that we got it right first time, turning it into a powerful marketing tool for the Accommodation team and an essential source of information for the students moving in.
One of the aims of UWP is to more clearly define who each of the migrated websites is for. Sites in the CMS are for external audiences and the new Accommodation site is primarily seen as one for prospective students, however, some of the content is also relevant to students already living in accommodation who may be considering University accommodation for their second year.
The UWP team and the Accommodation team worked together, keeping the website's top tasks - the information most important to visitors - at the forefront of our minds. 
These were:
How to find information on a specific type of room in accommodation

How to book a place in accommodation

Clear information for parents, including how to sign-up for the newsletter.
On top of this, one of our main goals was to give it a much cleaner and more visual layout and simplified site architecture compared to the previous design. This was a bigger task than it sounds, bearing in mind that the old accommodation website was built on more than one platform and we were rolling all of these into one.
Early feedback from the website's user poll suggests that we have had success with both. At the time of writing the site's Net Promoter Score (that's the measurement we're using to determine the users' satisfaction with the new website) is sitting at 31 - a rating of 'Great'. 
Some comments from users further back this up:
"Looks fantastic! Navigation is much easier and it looks a lot cleaner." 

"Looks so much better."

"I found everything that I was looking for. All information was very clear."

"I prefer this style to [the] other [website]."

"I was looking for information on accommodation types and costs and I found it."
Melanie Summers, Jordan Leitch and Emma Chorley from the Accommodation marketing team, are delighted with how their new website has turned out, adding to the good feedback: "We are amazed with how much easier it is to navigate around for both the user and the team behind the website. 
"Aesthetically it looks so much cleaner, more eye-catching and clearer for the user's experience."
As with all of our sites, going live isn't the end of the line. More feedback will continue to roll in over the next couple of months both from our live poll and user testing that we will carry out soon on the new design. We'll continue to update and develop the layout and content based on feedback that we receive.
To see the website for yourself, head across to www.sheffield.ac.uk/accommodation, and if you have time, a little feedback on our user poll (bottom right) would be much appreciated. 
Get in touch
If you have CMS questions or are stuck then get in touch and we'll do our best to help.
A world top-100 university
We're a world top-100 university renowned for the excellence, impact and distinctiveness of our research-led learning and teaching.