Finding the identity of Staff profiles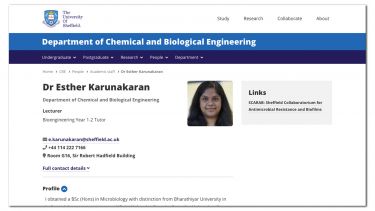 There are now three content types available to you as part of the new Staff profiles functionality:
Those of you who are familiar with the design of the CMS will know that, to date, we haven't had a tailored solution in place to display this type of content on the new website. 
Our initial research for the design of the new website showed that prospective undergraduate students didn't rank finding staff information as one of their top tasks. Postgraduate students looking to continue their studies, however, were more likely to seek out a member of academic staff's research interests and contact information. 
With this in mind, the initial focus for the project was to deliver Content types in support of areas on department websites such as homepages, simple content pages, signposting pages, news, module information and student profiles.
But from user testing with researchers, we found out that Staff profiles are important to the academic community, especially for attracting potential collaborators. On top of this, Staff profiles were still ranking highly in Google Analytics, so with old profiles remaining in the Legacy CMS, we knew this had to be prioritised as a bit of development work. 
Our aim was to bring a more intelligent, efficient and consistent approach to the Staff profiles themselves for both editors and visitors, as well as replicating the existing myPublications functionality available in the Legacy CMS. This is a much more efficient way to keep profiles up-to-date as the link between myPublications and the staff member's profile means that when they update their information on myPubs, it will automatically pull through to their profile, reducing the need to complete the same piece of work twice. 
Legacy staff profiles
An audit of staff profiles in the Legacy CMS revealed inconsistencies in the way information was being presented and managed. There was no template that was consistently used by editors which meant content was presented in many different ways. There was also duplication across different department sites and research groups, with some members of staff having more than one profile across the website estate.
These duplications and inconsistencies highlighted the limitations of the old system and showed the extent of how out of line with our project principles the previous approach to staff profiles was. 
We conducted user testing with students from the Faculty of Medicine, Dentistry and Health and worked with academics and marketing and communications staff from different departments to come up with a master list of what details are most useful from a business and a visitor point of view. 
One key finding was that a member of staff shouldn't be limited to being represented only on a single department site. There needed to be a way for them to exist in multiple locations without duplicating effort and pages. Multiple pages for staff meant departments were competing in Google search results too. We wanted a staff profile to have one true home that was easy for research centres or other departments to link to and pull information from to populate their contact lists.
The new design
Our goal was for the new Content types to bring consistency in both design and the way the content is structured in the system. Whereas the Legacy CMS presented editors with an empty page to create a staff profile in any way they wanted, the new Staff profile Content types allow editors to input content in a structured way, with separate fields for each piece of information.
The input forms in the CMS were tested by digital content editors and refinements were made to ensure these were user-friendly.
In terms of the way Staff profiles looked and worked for visitors, we knew they needed to be reassured they were on the same website and be familiar enough with the design to easily find the information that they want on a page. 
The design brief of retaining the integration with myPublications and building a more intelligent staff profiles system around that was a straightforward starting point. As we developed it over several weeks, it became a more and more sophisticated Content type, yet the final product is both flexible and easy-to-use. There are still a few tiny bugs, but we're continuing to iron them out, and our new fully-featured Staff profiles are ready to go. 
Smarter design
One key feature of Staff profiles in the CMS is the ability for inputted information to be used in more than one place. Once a profile has been created, the information can pull through to other locations including staff profile list pages, homepages, signposting pages and as embeddable 'cards' on most other website pages.
If your staff member is primarily based in another department with an existing Staff profile in the CMS, you can set up a special link to that profile to associate it with your list of staff, instead of setting up a duplicate profile on your site too.
This all means less duplication and less manual work across the different sites. And most importantly, information updated in one place is instantly replicated on multiple pages across the new website.
Finally, if all you need is a basic list of names, email addresses, job titles and telephone numbers, then you can set up a page containing a feed of data from the University telephone directory in minutes.
Going forward
Although we've built automation and efficiencies into Staff profiles which will save editors time and effort, we know that new Content types take some getting used to, especially when they require a bit more maintenance than the likes of a basic page. It may be a bit of a learning curve, but the good news is that the University Website Project team is here to help.
For sites that have yet to be migrated, this will all be rolled into the process and we'll teach you how to create and manage them. For sites that have already been migrated, we're reaching out to agree how we can help move the profiles over from the old system. You can contact us if you're keen to get started, otherwise, we will be in touch soon.
The Staff profiles for the Department of Chemical and Biological Engineering are now fully live on the website. We're gathering feedback which is helping us identify bugs and prioritise which small bits of functionality to build.
And in the long term, we know there are still further improvements to be made. The staff information being inputted and stored in a structured way opens up the door for us to use the data in intelligent ways across the rest of the website.
In keeping with our 'single source of truth' project principle, it's also our hope that in the future we can build better integrations with other systems in order to further improve the efficiency for editors and staff.
Get in touch
If you have CMS questions or are stuck then get in touch and we'll do our best to help.
A world top-100 university
We're a world top-100 university renowned for the excellence, impact and distinctiveness of our research-led learning and teaching.