Gathering and sorting top website tasks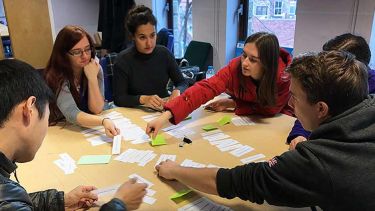 The first part of our work is to help us start to understand the needs of the people using our site, and the first priority area we're looking at is for prospective students. We needed to understand what the most important information prospective students need from us, and how best we should categorise and structure that information so they can find it more easily.
It's quite common to organise information around the idea of who owns or updates that information internally - for example some websites end up reflecting the organisation's department structure. The aim was to discover what sort of structure makes the most sense to the site visitors, rather than our own administrative preference.
Gathering our top tasks
The first step of the process was to gather as many ideas on the tasks and questions prospective students would use our website to answer. We collected these from a wide range of sources including:
Website analytics
Popular search terms
Website visitor surveys
Acceptors and decliners surveys
Previous user research
Popular Ask Sheffield and admissions questions
Competitor analysis
Interviewing current students
Talking to staff who work with prospective students
User stories from the Prospective Student CRM project
We also ran a project launch session and workshop with around 100 staff who gave us their insight into what tasks they felt were most important. We asked them to write down as many tasks as they could think of, and then vote for the ones they felt were most important. Each person only got three votes, so it forced a lot of tough decisions.
Surveying current students
Once we'd gathered our initial to-task list we then spent some time at one of the beach huts in the Students' Union foyer talking to a selection of students. We asked them to review our list of tasks and highlight any which were important when they were considering choosing where to study. They were then asked them to select just their five most important and put them in priority order.
Just like on Pointless we interviewed 100 students, and while the results do still need some analysis, some clear patterns have emerged as to which things are most important.
It's not to say that the things further down the list don't have a place on our website, we just want to identify which things are higher priority, and which thing are more niche.
Card sorting workshop
The second event we ran was originally going to be the same as the first one, but as we were making good progress identifying and prioritising top tasks, we got the group at the second workshop to try a different challenge.
We split the attendees into groups of six to eight people and then gave them around 60 cards, each with a website task written on. They had to take the tasks and organise them into categories they felt were the most natural groups for the information. We had around seven groups do the task, and each came up with a different set of categories, which shows just how tricky this part can be - and that there is no single right answer!
Both of the workshops were really useful to get input into the process, some interesting questions came up too.
What's next?
At the moment we have a list of around 100 tasks, and they have been prioritised by a few different groups - but mainly current students. We also have some categorisation ideas which a cross section of staff have suggested too.
We plan to run sessions with students, to see how they sort the same information, and then the project team will use all the data and ideas to come up some initial categories and also start building up the website structure.
We have to start somewhere with the structure, and this will mean we will quickly be in a position to test it with the relevant audiences. Testing is a key part of the process at the moment - we need to come up with an idea to test as quickly as possible so we can refine our ideas, and then re-test.
Sign up for project email updates
University Website Project website
Posted by Richard Brierton, Internet Services Manager, Corporate Information and Computing Services
Get in touch
If you have CMS questions or are stuck then get in touch and we'll do our best to help.