The Internal Website Project: From discovery to design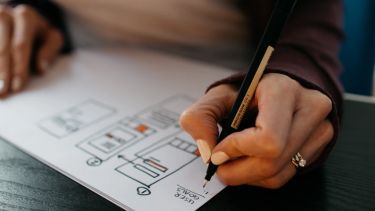 To design a successful product for users, understanding their needs is a must. Our focus on the discovery phase of this project has been to research the experiences of current staff and students, who use our website.
---
The purpose of user testing 
By focusing on users' experiences we can identify:
What their most important needs, expectations and goals are, especially when they visit our websites.
Their behaviour, and the actions they take to find information, including:

Where, and what they click on
How they scroll down a page
Where, and why they stumble when they cannot find what they are looking for
Where, and how they leave a page

Accessibility issues, and how to understand, and remove the barriers that could exclude, or impair a proportion of visitors from using our websites.
A design that is suitable for all.
---
Our testing
We reached out across the University for student, disability champions and staff volunteers to participate in user interviews, focus groups and surveys. This phase of user testing and research included:
Top task analysis
Users identified the most important, or most regularly used tasks undertook in their day-to-day work or studies.
Card sorting
Participants organised related tasks into categories that made sense to them. This helped us to design and evaluate the information architecture of the websites.
Tree testing 
Users completed a series of tasks that involved looking for information using a mocked-up site structure. We performed this exercise on a current website before the migration process started. This is so we could provide a benchmark for the same test when repeated on the newly migrated site. 
We hope it will result in a decrease in time spent finding the required information, especially when the user journey and content has been optimised. These tests were done on all newly developed navigation and menu structures. 
Together, the above research and user feedback will confirm logical user journeys. This should ensure that related navigation elements will be grouped accordingly.
Feedback
Users provided their feedback on interactive prototypes and visual mock-ups. This covered branding, logo and website header designs, and global and local menu designs. This was for both desktop and mobile devices.
---
The internal site migration has provided our team with an opportunity to further develop our user research and testing methods. 

An improved suite of prototyping tools is allowing for in-depth user feedback to be captured and analysed, resulting in a faster iteration of improving designs.

Internal sites and cPanel migration 

Victoria Bailey, Senior Content Editor
---
User feedback
Both staff and students have provided positive feedback about being included in the user research. These sessions have been an opportunity for them to critique, and provide actionable feedback to project designers and editors.
It also provided them with the opportunity to address any issues they had with the current sites and help the project team identify potential problems with the new internal ones. 
In our most recent round of user testing, we showed users our design mock-ups for the new internal platforms and asked for their feedback.
The results showed that almost two-thirds of participants liked or preferred the new internal desktop designs, branding and navigation. They reported that it looked "clearer and slicker" and "offered a clear distinction between the public and internal sites".
Over two-thirds of participants also responded well to the new mobile website design, which included a preference for the new styling of the local navigation and search field.
However, the above demonstrates that there is still work to be done to address the feedback from the remaining third of participants. We are currently analysing their data for actionable recommendations and will integrate them into the next round of user testing.
The University's Student Disability Champions accounted for nearly 20% of the participants involved. Their invaluable feedback is helping the University to create digital content from the ground up and provide a more positive online experience for people with accessibility issues.
This includes impaired vision, motor difficulties, cognitive impairments, learning disabilities, and deafness or impaired hearing.
---
Testing prototypes with website visitors is helping our design and development team to make faster and more confident decisions on what to improve, based on what matters most to our users.

It allows us to identify and fix issues with website features, such as unclear wording, unintuitive components and missing links, before we start to develop them.

Our ambition is to build visitor feedback into the University's website editing processes, so that editors can consider real user needs whenever they create content.

Internal sites and cPanel migration 

James Harding, Delivery Manager
---
All Champions preferred the new layout, stating that they "liked that there wasn't too much popping up on menus" and that the old website was "too wordy, full of text with no headings, or easy-to-read sections."
A great example of why user testing should be inclusive was due to the feedback we received on the new designs for the mobile search. All of the Disability Champions preferred to see search results displayed on clearly spaced 'cards'.
This is a format that contains distinct content boundaries, bold title backgrounds and headings. The remaining participants said they preferred a style that invoked a more minimal design, similar to that produced by search engines like Google. 
Based on this 50-50 split across our user feedback, we hope to create a results page that combines the preferred features of both designs.
---
Conclusion
Looking ahead, the second phase of user testing with a much larger pool of volunteers will help us to shape the new internal sites before they go live.
Please contact us if you would like to be involved in future user testing sessions.
For more information about website accessibility, or to find out what is currently available, visit the University's Accessibility statement.
Get in touch
If you have CMS questions or are stuck then get in touch and we'll do our best to help.