A new homepage for the University of Sheffield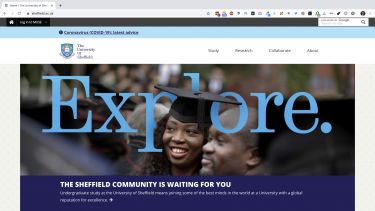 Our new homepage is designed to be cleaner, more organised and more impactful than the version we're moving away from in our Legacy CMS. It has been through a number of rounds of iterations and we've considered feedback from our visitors and the editors who maintain and publish the University's homepage content. 
The process of developing our new homepage has been, and will continue to be, a journey, and our intention is to continue to improve the homepage experience over the coming months, just as we did following our initial beta test at the end of 2019. 
Homepage Beta V1
In November 2019, we launched our beta version of our new homepage. This gave visitors to our site the first opportunity to test drive and give feedback on a new design.
At this point we'd already been working on homepage concepts and ideas for a little while. It is, of course, an important page when it comes to our website, as for many visitors it is the first page they see. 
Given its prominence and importance we want to make sure we get this right. 
Getting things right when it comes to websites starts with the audience. Our initial homepage trial allowed us to capture more than 400 pieces of feedback from visitors. 
This feedback was crucial in helping us understand what we'd got right and what we'd got wrong with the new design. 
Our aims for the Beta test
When it comes to the initial design, there were a few things we were hoping to achieve. 
We wanted to develop a homepage that: 
allowed us to give stronger prominence to our key campaigns and messages as a University
prioritised visitor top tasks in relation to signposting the course finder and relevant content to our audiences
made it easier for our editors to update with high quality creative and crisp copy 
had a more logical and organised structure than the dynamic magazine layout we'd used in the past 
These aims influenced the layouts and components we developed for our test version. The trial period also gave us a chance to see how the new design would behave with real content. Our editors made regular updates with content from campaigns, projects and news stories. 
What did we learn?
The feedback we received during the initial trial period highlighted several themes. 
We learned that many visitors felt: 
the top banner of the new design was far too dominant and deep, and that it pushed content too far down the page.
they didn't always see what they were expecting at the top of the page when it comes to messaging and our brand. 
the page was too long and required too much scrolling - particularly on smaller devices. 
a more creative and stylish design would help make the page more impactful.
the colours and fonts used didn't feel bespoke and part of a strong visual identity. 
As I'm sure you can imagine, it's not always easy to read negative feedback on your work. But this feedback was essential when it comes to our efforts to improve our design for the new homepage, and it was helpful for us to receive it in the early stages of development.
Iterating the homepage for launch
Since then, we have spent a good amount of time processing and listening to the feedback from our initial beta tests. We have rebuilt and reconsidered some aspects of the new homepage based on the feedback and we now feel confident that we are ready to make it live.
This doesn't mean that the homepage development is 'finished.' We will continue to ask for feedback and recommendations on what we can do to improve the homepage experience on sheffield.ac.uk. We will also learn more from analytics and heat maps about exactly how it is being used by visitors so that we can continue to make it better and more useful for them.  
One of the core principles of the University Website Project is to make sure we test, learn and improve and we will continue to apply that philosophy for our homepage even after pressing the button to make the new version live and available to the world. 
Get in touch
If you have CMS questions or are stuck then get in touch and we'll do our best to help.