The new look Staff hub is coming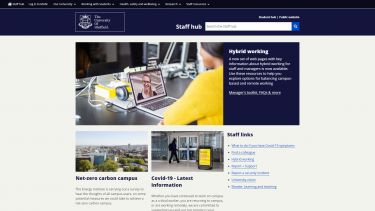 ​Navigating a new design and menu can take some getting used to, so we've answered some key questions below to give you an idea of what to expect.
What's changing?
The new Staff hub aims to be easier and simpler to use and provide you with more relevant information.
The first thing you'll notice is that the design of the pages looks different – with the colours and layout now in a similar style to our main, public-facing University website.
There have also been a number of functional improvements. There are more options available in the menu alongside 'My services' and a search focused on specific information for staff.
Web Content Accessibility has been at the forefront of the changes. We want to make sure everyone – whatever their situation or level of English – is able to use the hub. Content is being adjusted using plain English, consistent templates, formatting and accessible colour contrasts.
Work is ongoing so from time to time you may need to go back to the old style pages for some information and services. You won't need to do anything differently to continue visiting those pages.
When will I see the changes?
The first phase rolling out the Staff hub will involve upgrading the main page and menu you see after logging in to the University website. Those changes will take place this summer. Between now and next year, all appropriate sections of our website will be transitioned across. 
We're aiming to make small and gradual changes. No actions will be needed from you – just make sure you're logged in to the website. This is a security feature required for all internally-focused digital services at the University.
How will I access the new Staff hub?
Once upgraded, you'll be able to access the Staff hub the same way you normally log in, from the top left-hand corner of the University website using your University username, password and multi-factor authentication (MFA).
Tip: When you log in, select the 'Remember me for 7 days' box to stay logged in through your browser.
How do I navigate the Staff hub?
The new look menu includes sections for:
My services – to access online tools you're familiar with
Resources for staff – to help you with common University tasks and concerns
Our University – to view news, policies and the latest University vision
Working with students – resources for teaching, supporting and recruiting students
Wellbeing, health and safety – to get health and wellbeing support or report a problem
Research – to access the University's research services and studies
There are also useful links for quick access to the University's public website and Student hub.
What further help is available?
Watch our short video to preview the new Staff hub.
Forgotten your login details?
If you're having trouble logging in, please follow our instructions to request a password reset or recover an account. IT Service Desk is also here to help.
It's important that you use strong passwords and that you never share them with other people.
Protect your login details
Remember that we will never send you a direct link to log into the website. Fraudsters will send links to fraudulent login screens and web pages, which may look very similar to our genuine login pages, in order to gain access to your account.
Always log in via the homepage on the University website and if you are suspicious about any request please report it to phishing@sheffield.ac.uk
Get in touch
If you have CMS questions or are stuck then get in touch and we'll do our best to help.