Alfred Denny Museum guided tours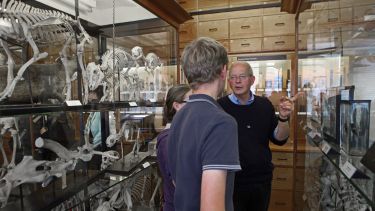 Event details
The first Saturday of each month
---
Description
The Alfred Denny collection showcases all major taxonomic groups, including fish, reptiles, amphibians, birds and mammals.
High quality specimens from across the globe from all major phyla including fossils and material of extinct animals, which demonstrate the diversity of animal life on earth.
The displays include a large spirit collection (animals stored in alcohol) and fully articulated skeletons of a wide range of vertebrates (backboned animals).
Rare glass lantern slides donated to the museum by Henry Clifton Sorby, who developed a pioneering technique of mounting marine animals in thin sheets of glass, so they could be projected onto a screen for viewing.
Two letters written from Charles Darwin to Henry Denny (Alfred Denny's father), which are available in transcription
---
Location
53.381678114835, -1.4877412797056
Events at the University
Browse upcoming public lectures, exhibitions, family events, concerts, shows and festivals across the University.