'Best start in life' - Then what? by Michelle Black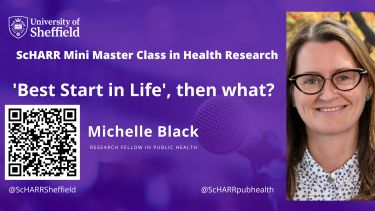 ---
Description
Join us for a monthly online masterclass by one of our health research experts based in The School of Health and Related Research
Abstract:
During her talk Michelle will share findings from her research which explores the relationship between development in school age children and subsequent weight and mental health in adolescence. She will discuss which aspects of child development most affect later health. Additionally she will present her longitudinal analysis identifying trajectories of child cognitive and socio-emotional development from age 3-14 years; the characteristics of those trajectories; and their associations with weight and mental health at age 14 and 17, in a UK cohort. She will discuss implications of the findings in relation to building upon 'best start in life' policy to create a child and adolescent health life course strategy aimed at reducing inequalities in adolescent health.
Bio:
Michelle Black is a research fellow and public health registrar in the final stages of her NIHR doctoral fellowship on child and adolescent health inequalities at ScHARR. Her research focuses on the relationship between child development and adolescent health, beyond the 'best start in life' period. In particular this is to understand how inequalities in development in school age children affect adolescent weight and mental health. Her work involves a unique mix of epidemiological methods and knowledge mobilisation to produce actionable evidence to identify policy questions and inform policy to reduce child and adolescent health inequality. She is also a lecturer on the MPH programme at ScHARR and senior associate editor of the journal Public Health in Practice. She is also a pharmacist and prior to working in public health she worked in medicines management in primary and community care in the NHS for 17 years.
Profile: https://www.sheffield.ac.uk/scharr/people/staff/michelle-black
Link to the webinar
https://eu.bbcollab.com/guest/fbae374ad6ed4eeea1ed792b69cc2b6c
The live session takes place in a Collaborate webinar - headphones are advisable and easy to set up. You can join with a computer, tablet or smartphone, Chrome and Firefox offer the best browser experience. You can also use a phone to handle audio while in the session by dialling +44 2033 189610 and entering the PIN: 398 583 2702.
We look forward to seeing you online.
Events at the University
Browse upcoming public lectures, exhibitions, family events, concerts, shows and festivals across the University.