Western Bank Library Exhibition - Engineering Fun: The Story of Orton and Spooner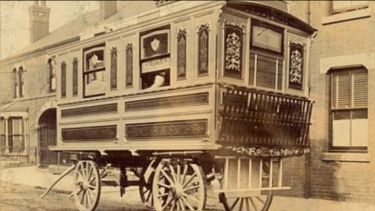 Event details
24 January - 11 June 2022
Opening times: Mon-Thursday: 9am-7pm, Fri 10am-7pm, Sat & Sun: 12-2pm (ex bank holidays).
---
Description
An exhibition from the collections of the National Fairground and Circus Archive
In 2019, the National Fairground and Circus Archive (NFCA) received a grant from the National Manuscripts Conservation Trust (NMCT) to preserve over five hundred original drawings and plans from the Orton and Spooner Collection. George Orton, Sons & Spooner Ltd were one of the most significant fairground ride and equipment manufacturers in Britain between the Victorian era and the middle of the twentieth century. The collection at the National Fairground and Circus Archive, is
one of the most significant public records of the company in existence. Their archive chronicles the evolution of popular entertainment and fairground ride manufacturing in Britain and showcases the ingenuity and talent of the engineers, artists and artisans they employed.
The collection captures the key technological advancements and socio-political transitions of the nineteenth and twentieth centuries through some of the most significant events in modern history including the industrial revolution, the Great Depression, two world wars and the advent of electricity, steam power and the
internal combustion engine.
The conservation project has been the catalyst for a holistic approach to preservation, access and discoverability, and has enabled the digitisation of over seven hundred at risk documents.  Engineering Fun: The Story of Orton & Spooner exhibition will be held at the Western Bank Library, University of Sheffield, between 24th January and 17th June 2022. The exhibition will explore the history of the company, the evolution of fairground rides, fairground architecture, physics and
engineering and fairground art.
Further information on the companyVisitor and access information
 
Events at the University
Browse upcoming public lectures, exhibitions, family events, concerts, shows and festivals across the University.