Research Records - academics sharing their soundtrack to academic adventure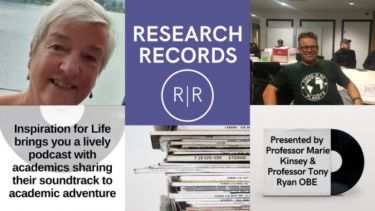 ---
Description
Research Records, presented by Professor Marie Kinsey (@journotutor) and Professor Tony Ryan OBE (@pvcryan).
Launched in March 2021, each episode features an academic guest sharing the musical soundtrack to their adventures both in life and in research, in conversation with one of our fabulous hosts. The first episode has its own twist - Marie will interview Tony!
You will be able to listen across Spotify, Anchor and Mixcloud. 
Marie Kinsey interviews Tony Ryan
Our latest guest is Pam Enderby, emeritus Professor of community rehabilitation and a qualified speech and language therapist. She has had a distinguished career in the University, being in turn Chair of Community Rehabilitation, Head of the Department of Human Communication Sciences, and the first ever woman to serve as Dean of the University's Faculty of Medicine. Beyond the University she has served as Chair of the College of Speech and Language Therapists and is currently President of the International Association of Communication Sciences and Disorders. 
Professor Marie Kinsey interviews Professor Brendan Stone.Professor of Social Engagement and the Humanities and the University of Sheffield's Deputy Vice-President for Education.
Professor Tony Ryan interviews Ed Daw, a professor of particle astrophysics. He is the son of professional musicians and went to the local comprehensive school and the then sixth form college in Birmingham.
Events at the University
Browse upcoming public lectures, exhibitions, family events, concerts, shows and festivals across the University.