ScHARR Mini Masterclass in Health Research Dr Lindsay Blank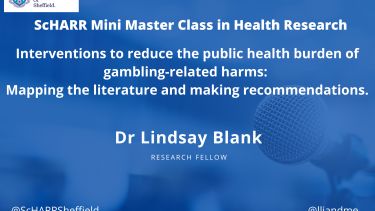 ---
Description
About this event
Join us for a monthly online masterclass by one of our health research experts based in The School of Health and Related Research
Link to the webinar
https://eu.bbcollab.com/guest/fbae374ad6ed4eeea1ed792b69cc2b6c
Interventions to reduce the public health burden of gambling-related harms: Mapping the literature and making recommendations.
Lindsay Blank (speaker), Susan Baxter, Helen Buckley Woods, Elizabeth Goyder
Abstract:
Gambling is a source of serious and unevenly distributed harm, increasingly recognised as a public health concern. We aimed to identify review-level evidence for interventions to address or prevent gambling-related harms and explore policy implications, to assess the evidence base, identify gaps, and suggest key research questions. We identified whole-population preventive interventions and targeted treatment interventions for individuals addicted to gambling. Interventions to screen, identify, and support individuals at risk of gambling-related harms were not represented in the review-level evidence. Further consideration of primary studies suggested that health, care and support services are potentially vital in identifying and offering support to problem gamblers.
Biography:
Lindsay is a Research Fellow in Public Health with almost 20 years experience. Her key research interests is in public health evidence synthesis including novel and rapid methods of presenting and interpreting evidence. She is currently working on policy focused reviews for NIHR
https://scharr.dept.shef.ac.uk/phrt/ and HS&DR
https://scharr.dept.shef.ac.uk/hsdr/
Associated research
Blank L, Baxter S, Woods HB, Goyder E. Interventions to reduce the public health burden of gambling-related harms: a mapping review. The Lancet Public Health. 2021 Jan 1;6(1):e50-63.
https://www.thelancet.com/pdfs/journals/lanpub/PIIS2468-2667(20)30230-9.pdf
Blank L, Baxter S, Woods HB, Goyder E. Should screening for risk of gambling-related harm be undertaken in health, care and support settings? A systematic review of the international evidence. Addiction Science & Clinical Practice. 2021 Dec;16(1):1-9
https://europepmc.org/backend/ptpmcrender.fcgi?accid=PMC8164740&blobtype=pdf
Link to the webinar
https://eu.bbcollab.com/guest/fbae374ad6ed4eeea1ed792b69cc2b6c
The live session takes place in a Collaborate webinar - headphones are advisable and easy to set up. You can join with a computer, tablet or smartphone, Chrome and Firefox offer the best browser experience. You can also use a phone to handle audio while in the session by dialling +44 2033 189610 and entering the PIN: 398 583 2702.
We look forward to seeing you online.
Events at the University
Browse upcoming public lectures, exhibitions, family events, concerts, shows and festivals across the University.