Cleaning, bins and recycling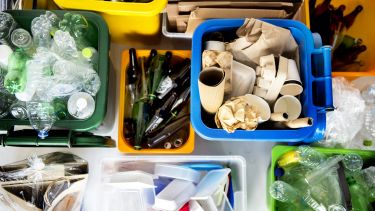 Cleaning
It's important that you keep your flat clean and tidy, if you need help with a cleaning rota for communal areas speak with your Residence Life Mentor. For advice on how to keep things clean, ask your housekeeper, they'll be happy to help. 
Cleaning at Ranmoor/Endcliffe and City accommodation
The Housekeeping team will clean your flat communal areas (living/kitchen/dining rooms, corridors, and shared bathrooms) fortnightly. This includes vacuuming and wiping work surfaces, you need to make sure that there are no dishes left on the sides (clean or dirty), and the housekeepers will not wash dishes. 
You are responsible for cleaning your own bedroom (and en-suite if you have one). 
There is no cleaning service at Allen Court in student flats or bedrooms. The main Common Room area is cleaned Monday-Friday. 
Cleaning at St Vincent's Place
Communal areas at St Vincent's, such as kitchens, are cleaned fortnightly. This will include wiping down surfaces, cleaning the hobs and making sure the floors are clean. You'll need to make sure that you keep on top of the washing up and keep the sides clear so that our teams have enough space to clean. Students must also take their own rubbish to the bin store to allow our team full access to cleaning.
No cleaning is provided in your bedroom or en-suite.
Entrance lobbies and corridors at Laddow are cleaned, however the studio bedrooms are not. 
You are responsible for regularly emptying your kitchen bins and taking the rubbish and recycling to the bin stores - not your cleaner. 
Bins in Ranmoor/Endcliffe
Your flat will have two bins; general waste and mixed recycling. Please use clear bin bags for the recycling bin and black bags for general waste. No black bags can go in the external recycling bins.
The mixed recycling bin can be used for the following:
Paper
Cardboard
Plastic
Tins
Glass
External bin stores are located near each block, please make sure that all bin bags go in the external bins and are not left on the floor. 
If you live in one of our houses, our waste contractor will collect the bins from your footpath and empty them, so there is no need for you to take them to the road. Remember not to overfill the bin or leave additional rubbish as excess waste won't be collected.
Your recycling bins (orange lids) are mixed recycling, so it can all go in together, including cardboard, glass, tins, and plastic.  
General waste and recycling will be collected weekly. 
Please do not leave your waste at the side of the bins.
Bins in Allen Court
Allen Court has general waste bins and cardboard/paper recycling bins. External bins are located outside the blocks. 
St Vincent's 
St Vincent's has general waste and recycling bins in the flats, and external bins.
A world top-100 university
We're a world top-100 university renowned for the excellence, impact and distinctiveness of our research-led learning and teaching.